Haz clic aquí para leer la versión en inglés.
Nowadays it is very important to receive positive opinions and reviews on the internet. Especially for restaurants, if your restaurant accumulates good comments and is among the most valued, it will achieve a much better position, stay in the top positions and, therefore, continue to grow and receive diners. One of the main platforms for them is TripAdvisor, which every year prepares different rankings with the best destinations, hotels, restaurants or activities, based on the opinions and scores of its users compiled over the last 12 months. In the gastronomic field, these are the 10 luxury restaurants in Spain best rated by the website's users (and the first two are among the top 25 favourites in the world). Take note!
Chef Martín Berasategui is a true emblem of Spanish gastronomy. His restaurant in Lasarte-Oria ranks first on the Spanish list and fourth in the world, according to the opinions of the portal's users. And no wonder, as it has held three Michelin stars for 20 years and offers an unforgettable gastronomic experience. It is a regular on any list of outstanding restaurants worldwide, and its Tasting menu will give you enough arguments for this.
El Xato (La Nucia, Alicante)
Also included in the list of the world's favourite restaurants for TripAdvisor users (specifically in position number 5). This family restaurant with more than a century of history has become one of the most prestigious gastronomic proposals in the province of Alicante. Thanks to the cuisine of chef Cristina Figueira, you will take a journey through traditional Mediterranean cuisine, but with an updated twist.
Its philosophy is clear: to excite the diner. To achieve this, chef Óscar Molina is inspired by the local raw materials, offering a menu with unique flavours that extols the quality of the natural resources of the environment. Get ready to delight yourself with his exquisite creations and embark on a sensory journey, through the perfect fusion between haute cuisine and the best local produce. It has two tasting menus: Tanit Menu and Posidonia Menu.
Versátil (Zarza de Granadilla, Cáceres)
Versátil lives up to its name. There are two spaces in one: on one side is the lounge, more elegant and gastronomic where you can taste the proposals of its Tasting Menus; and downstairs you will find the Bodega, a more informal space, but also with a high quality cuisine in the purest Versátil style. The kitchen is run by Alejandro Hernández Talaván, who worked in Martin Berasategui's restaurant.
TripAdvisor users love meat. And this restaurant in Valencia is an authentic carnivore temple. Specialising in old beef with different maturations, get ready to get your boots on by trying the best pieces of cutlet, a good Valencian stew or its traditional steak tartar, among other delicacies.
This restaurant in Malaga offers a spectacle for the senses. El Tercer Acto is more than a place, it is a moment. No diner will be left indifferent, either with a recipe inspired by Japanese gastronomy or tasting a reinterpreted local dish. And all paired with a good cocktail.
The whole gastronomic experience revolves around the meat, carefully selected by the team and matured for the necessary time depending on its characteristics. There is also a large selection of handmade dishes. Ángel García has been inspired by his trips to the United States, Australia and Europe to offer an international concept.
Lopis (La Palma del Condado, Huelva)
This year it is once again on the list. This restaurant located in the province of Huelva offers a gastronomic experience based on humility and passion. Its 12-course tasting menu will take you on a journey through the traditional gastronomy of the area.
A Capela (Arteixo, A Coruña)
It is the best rated restaurant in the province of A Coruña. Its speciality is premium meats (from all over Europe), but they also have an extensive menu of fish and other foods that will win you over, just like TripAdvisor users.
Selecte (Elche, Alicante)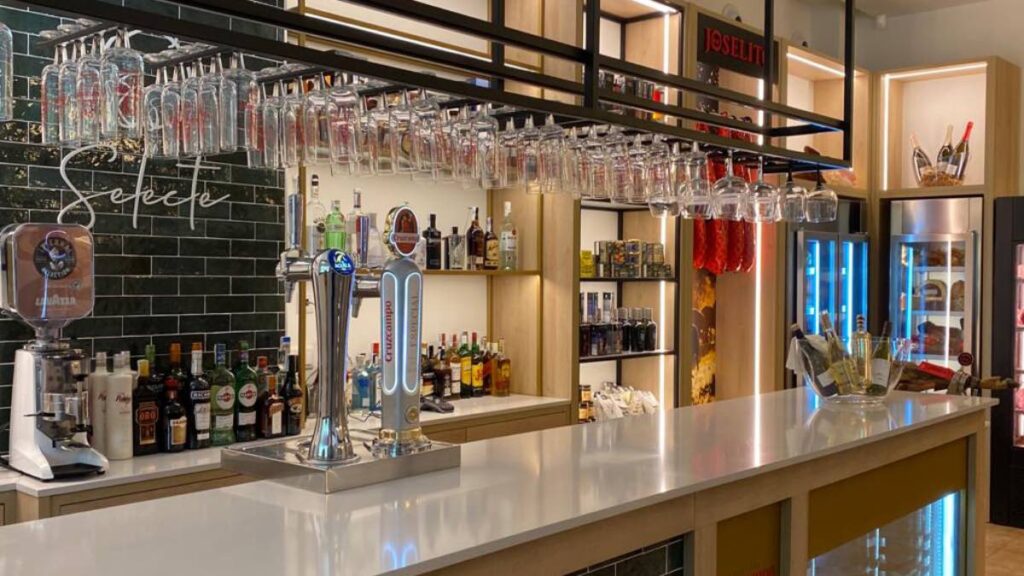 This restaurant in Elche offers an innovative concept with a wide gastronomic offer prepared with the finest products and paired with the best wines. Taste of yesterday and today thanks to its traditional recipes fused with new techniques.