Click here to read the Spanish version.
Every year a new edition of the Guinness World Records is published with the amazing and heroic feats of the last few months. But many of them are also surreal and peculiar. The gastronomic theme is quite recurrent in the list: who manages to eat the most food in the shortest time, who eats the biggest product and the like. Some examples are these 13 foodie records that we show you below.
Biggest hot dog
Would you be able to eat a hot dog weighing more than 3 kg? That's the weight of the hot dog that holds the record for being the heaviest in the world. And it has held it since 2011.
The pizza with the most cheese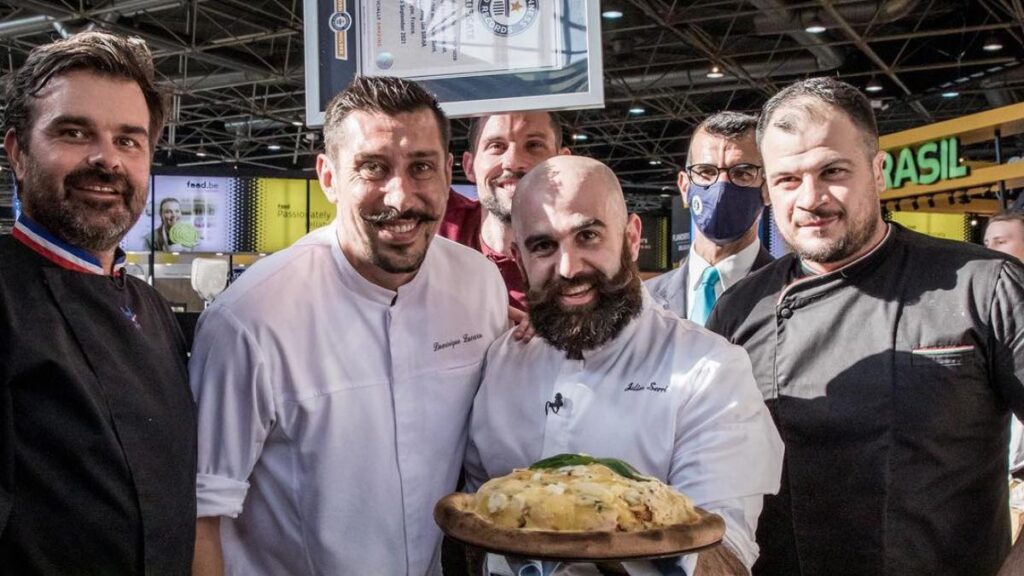 Cheese lovers: here's your dream come true. A pizza made with 834 different types of cheese. The creators were French chefs Morgan Niquet, François Robin and Julien Serri. They did it at an event to promote France's great variety of cheeses.
50 years of eating McDonald's every day
Donald Gorske is such a fan of McDonald's that he has been eating McDonald's burgers every day for 50 years. In fact, there are many days when he orders two Big Macs, the best sandwich in the world for him. He has broken the record of eating this fast food every day for 50 years (except for 8 days only). Obviously, he is the person who has eaten the most Big Macs in history. As of a year ago, he had eaten 32,340 of these burgers. As an anecdote, Donald has confessed that he once tried a Whopper from Burger King and a double Topper burger, both 1984.
The most expensive fries
A product as cheap and widely consumed as Chips can also become a real foodie gem. The record for the most expensive french fries in the world is held by Serendipity3 in New York. A plate of fries costs almost 200 €. The explanation for such a luxurious dish is the inclusion of ingredients such as black truffle, champagne Don Perignon or champagne J. Leblanc, among others.
The biggest pizza
One of the most recent records. Just a few days ago, the youtuber Airrack together with Pizza Hut broke the Guinness record for the largest pizza in the world: no less than 1,300 m2 of dough. It was gluten-free and called Ottavia. We don't know if they managed to finish it.
Eating more hot chillies in less time
Some people like it hot, and then there is Gregory Foster. This American broke the record for eating the most Carolina Reaper chillies – the hottest in the world – in the shortest time. In total he managed to gobble up 10 chillies in just 33.15 seconds. I'm sure he needed a lot of water when he finished.
The heaviest pumpkin
Nobody likes to be given pumpkins, and no one likes to be given pumpkins weighing less than 50 kg. The world's largest pumpkin weighs a staggering 47.4 kg. It was grown by a farmer in Michigan last October. It was sure to be a big hit on Halloween night.
The biggest cake pop
Nick DiGiovanni and Lynn Davis work together to achieve different records. Lynn has a profile on TikTok @cookingwithLynja, which has 15 million followers. This time they set out to create the world's biggest cake pop. They managed to make a candy that weighed 44 kg and had a circumference of 128.90 cm. They needed five cups of sprinkles to finish their cake. Definitely not for diabetics.
The longest nugget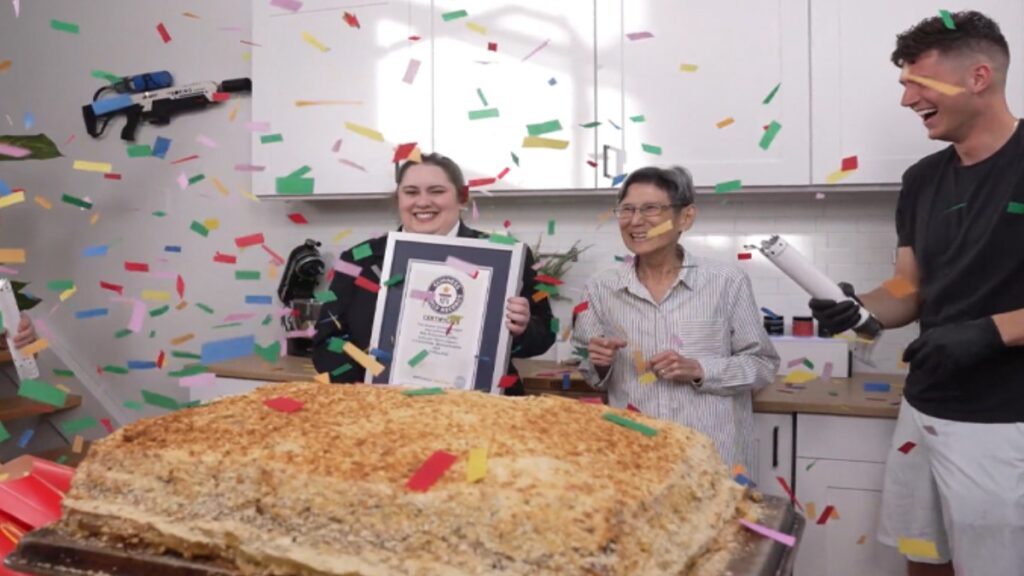 Nick DiGiovanni and Lynn Davis broke gastronomic records again. This epic tandem also created the world's largest chicken nugget. It weighed 20,960 kg and they used 18 kg of chicken. To give you an idea, that would be 115 times the size of a normal nugget.
Snoop Dogg's Giant Gin & Juice
Imagine being at a Snoop Dogg concert and suddenly they start making a giant cocktail while his song Gin & Juice is playing. Something similar happened at the BottleRock Napa Valley Music Festival in California in 2018. The singer, along with chef Michael Voltaggio and three other rappers, set out to break the record for making the world's largest cocktail paradise. And boy, did they succeed. They used 180 1.75-litre bottles of gin, 156 1-litre bottles of apricot brandy and 28 3.78-litre jugs of orange juice. And they mixed it all in front of more than 8,000 people who wanted to taste it. Although it was reserved only for a lucky few in the VIP area.
The longest Sushi Roll
Lynja and her partner in crime have even more records to their credit. This time they teamed up to make the world's longest Sushi roll. To do so, they used almost a thousand kilos of rice and 226 kg of salmon, among other huge amounts of food. It measured 2.16 m and was prepared in three hours, thanks to a team of eight people.
The biggest vegan burger
Vegan options also have a place in this kind of feat. The English company Finnebrogue Artisan, producers of artisan food, decided to prepare the world's largest vegan burger. They set their sights on 100 kg, but went well beyond that to 160 kg. It took 9 hours to make and they used 10 kg of tomato, 4 kg of lettuce, 7 kg of vegan cheese, among other products. They used the recipe of their own product 'Naked Evolution Burger' and the result was 1,274 burgers in just one.
Uganda's biggest 'rolex
No, we are not referring to the famous watch that singer Shakira identifies herself with. This time we are talking about a popular food in Uganda. The name comes from the combination of rolled and eggs. This street dish is traditionally composed of a fried omelette and a filling of various vegetables rolled up inside a chapati, a soft, spongy flatbread made from wheat flour. This giant 'rolex' weighed 204.6 kg and was 2.32 m long.
For other foodie Guinness World Records, here are some other amazing gastro feats.