Click here to read the Spanish version.
With a new academic year already underway, Madrid shows that it is still living a golden age in gastronomic terms. Since September, new and long-awaited restaurant openings have been taking place, with new additions every week between now and the end of the year. An autumn full of the most varied culinary novelties awaits us. From projects of prestigious chefs to the expansion of large hotel groups with their new projects, and also some more casual proposals. Here we compile 16 new restaurant openings in Madrid that will give much to talk about in the most gastro autumn. Take note!
Still without a clear opening date, Rafa Zafra's new projects are always awaited with anticipation and expectation. On this occasion, Rural will also come from the hand of Anna Gotanegra and Ricardo Acquista, who join the Chef Alberto Pacheco and the Maîtrelier Juanma Galán to open in the heart of Madrid, specifically in the street Marqués de Cubas 8. Accustomed to a seafood concept, this time the Sevillian chef has opted for meat as the protagonist.
Where? At 8 Marqués de Cubas Street.
It is, without a doubt, one of the most anticipated openings of this fall, especially after Tim Cook's visit to Mo de Movimiento restaurant, TRAMO's big brother. This is the new project of Proyectos Conscientes, a company that emerged in 2018 from the commitment and enthusiasm that Felipe Turell and Javier Antequera share with a team of professionals intensely motivated by research, collaborative experimentation and innovation. To this end, they seek to redefine the concept of leisure in cities and promote responsible consumption.
TRAMO is located in a warehouse in the Prosperidad area, this restaurant will offer a cuisine based on quality, seasonal and local products. In their Social Media profiles they are sharing the whole process of creation of the space, which has generated a lot of expectation. There is still no official opening date.
The Azotea Group continues to conquer the sky of Madrid with new and emblematic spaces. If just a few months ago it reopened the Club Financiero de Génova, which joined the Azotea del Círculo de Bellas Artes, Azotea Forus Barceló, Picalagartos Sky Bar & Restaurant in the capital, it will soon join another hotspot that will become the next trendy place. It is Azotea Cibeles, in the Palacio de Cibeles, which will have a terrace, a cafeteria on the 2nd floor and the Cornamusa restaurant, where chef Jesús Almagro, head chef of Cornamusa, has designed a gastronomic proposal together with Manuel Berganza, executive chef of Azotea Grupo.
The cocktail menu bears the creative stamp of Luca Anastasio. We will soon be able to enjoy this new venture. The spectacular design of the space was the work of Alejandra Pombo's studio.
Where? At Plaza de Cibeles 1.
In recent years, the Escondite Group has also experienced overwhelming growth. It already has emblematic premises such as Casa Orellana, Café Comercial, Barbara Ann or El Escondite de Villanueva. Now they have just opened a new location in Chamartín, which reflects the unique philosophy of the mythical El Escondite de Villanueva, with an uninterrupted kitchen service and a quality product.
Where? At Plaza de la República del Ecuador 2, 28016 Madrid.
The Dani García Group is already a regular protagonist of several openings every year. Just a week ago, he opened the new Lobito de Mar restaurant in the luxury complex La Finca Grand Café, in Pozuelo. But that's not all, because the chef from Marbella continues to finalize another of what is one of the most anticipated restaurants in recent months: Tragabuches. This honest and Andalusian tavern, as defined by Dani García himself, will be located in Paseo de la Castellana.
New Nikkei proposal in the capital and behind the project is a reference of this type of cuisine, Luis Arevalo. Located in Hermosilla street, Akiro is defined as a 'Nikkei Hand Roll Bar' concept, focused mainly on proposals to eat with your hands. As they explain in their profile, the Hand Roll Sushi is a Japanese variant of sushi. It is prepared by hand by rolling it in a cylinder of stuffed nori seaweed. Three days ago they announced that they were starting the white march to prepare the wait staff and kitchen staff, and make the final tests. So the opening is imminent. Of course, as they specify in their networks, they will only serve on a first-come, first-served basis, so for the moment they will not accept reservations.
Where? At Hermosilla 40, 28001 Madrid.
The Cala Bandida Group, well established in the province of Alicante for 10 years, now lands in Madrid in an exclusive location: the new luxury gastronomic complex of LaFinca Grand Café, in Pozuelo, which opened just a few days ago. The group brings its particular Mediterranean oasis to the capital to offer a culinary experience that will transport you directly to the Costa Blanca. You can try their Valencian rice dishes, fresh seafood, grilled fish and, of course, one of their star dishes: lobster with fried potatoes and free-range egg.
Where? At LaFinca Grand Café – RoofTop, Av. de Luis García Cereceda 5, 28223 Pozuelo de Alarcón, Madrid.
Ceferino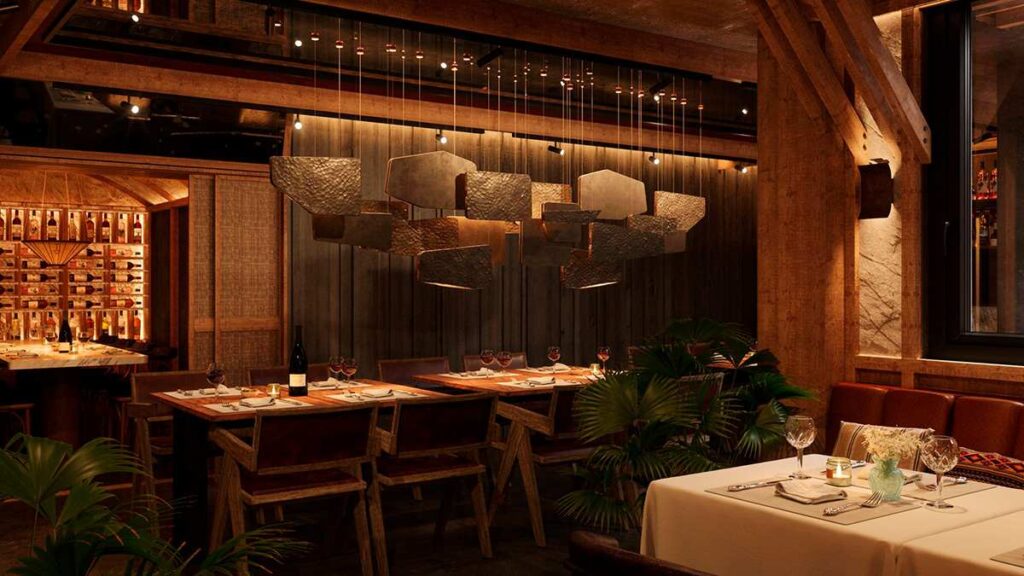 If you are a meat lover, get ready to discover the new Argentinean steakhouse that will open during the month of October in the heart of the Salamanca neighborhood. Behind this project is the La Única Group. Ceferino will offer a barbecue experience, thanks to the expertise of the award-winning Argentinean grill master, José Antonio Figueroa, at the helm of the embers. It will be one of the most striking openings of this new season.
Where? At 27 Jorge Juan Street, 28001 Madrid.
This is one of the most eagerly awaited reopenings. A few months ago it announced its return and in mid-September opened its new location in the neighborhood of La Latina. This exclusive omakase bar for 9 diners will make you travel directly to Japan. It is backed by its previous success and, in its new venture before opening, it had already become a benchmark of Japanese gastronomy. They serve an Omakase menu of 16-17 courses at a price of 185 € per diner. And the experience is enlivened with flamenco music in the background.
Its three pillars are technique, product and season. As for the exact location, it is only revealed once the reservation is confirmed by email. In addition, the restaurant specifies that diners should not use perfume for the optimal enjoyment of the experience, as it would break the subtlety of the different dishes that we propose in our menu.
Per Sé Bistró
Another of the most awaited openings of the fall. Although it was originally scheduled to open in mid-September, its definitive inauguration will be in October. Andrés Madrigal's new project is located in the premises occupied by the legendary Arce restaurant, owned by Iñaki Camba. Per Se Bistró has been publishing for weeks on Instagram brushstrokes of what will be their new proposal. In June they detailed that the menu would be based on 3 gastronomic acts. The first one composed of 14 dishes. The second 'Sin Latitud', 8 balanced times tribute to each of Andrés' travels through different countries. And the third called 'Ganas, Apetito o Hambre', 12 tuned times tribute to La Gran Cocina Española and his beloved Iñaky Camba.
Some of the dishes that can be seen in their networks are the Boulettes of Grouper, Barley, Merlot and Star Anise; the Turbot in short vegetable broth, roasted leek, potato bonita aove and wild carrot; the suckling lamb shoulder confit in its own juice with marjoram, sage, lemon thyme, mushrooms, roasted piparras and double mashed potatoes; or the Black Grouper, Cous Cous, Tzatziki, Ginger and Kaffir Lime Aove, among others. In addition, they have also informed that they will have a cocktail menu with 12 classic proposals.
Where? At 32 Augusto Figueroa St., 28004, Madrid
It has already been running for almost a month -it opened on September 4-, becoming one of the must-visit gastro stops in Madrid this fall. This new restaurant is the brainchild of Patxi Zumárraga and Patricia Haramboure. It is a bistro of Basque-French cuisine that serves an excellent product of the Cantabrian Sea, from small producers in the area of Biscay, Guipuzcoa and Aquitaine.
Among the delicacies that can be found in its menu, the Celerí glazed like a magret, the crab on the oak grill and seasoned with fried garlic and butter and other options of a living menu that is constantly evolving, always depending on the best product they receive every morning.
Where? In Maldonado Street 4, 28006, Madrid.
The good tapas has also arrived to La Moraleja, to bring to the exclusive Golf Park of La Moraleja all the essence of the traditional breweries with well-drawn beers and delicious portions. This new location of Bareto, a few meters from La Moraleja Green shopping center, is located in a golf course to complete a great sporting event; and not only for fans of this sport, but also for any resident of the area, as it overlooks the golf course, has an open terrace, another heated terrace and will also offer live music on Fridays and Saturdays.
Of course, following the Bareto formula, the most important sporting events will also be shown so that you can enjoy sports among friends while tasting some gildas, bravas, flamenquines, its emblematic montado de chipirones, some good torreznos, the Bareto-style hot dog or any of the options on its menu.
Where? At Avenida de Europa 10, 28108 Alcobendas (Madrid).
Although there is still no opening date -and it will probably be closer to winter-, the GastroPortal Group, led by Carlos Bosch, is already preparing the second location of this successful tapas bar concept, which is going to be a "super Bar Manero", in the words of its founders. And no wonder, because it will be located in the former restaurant Paradis Madrid, the emblematic premises very close to the Congress of Deputies. It will join other proposals that the group has in the capital, such as Bar Manero -also with 3 premises in Alicante-, Mar Mía -along with Rafa Zafra and Luis Rodríguez from Casa Elías- and El Portal, also in Alicante.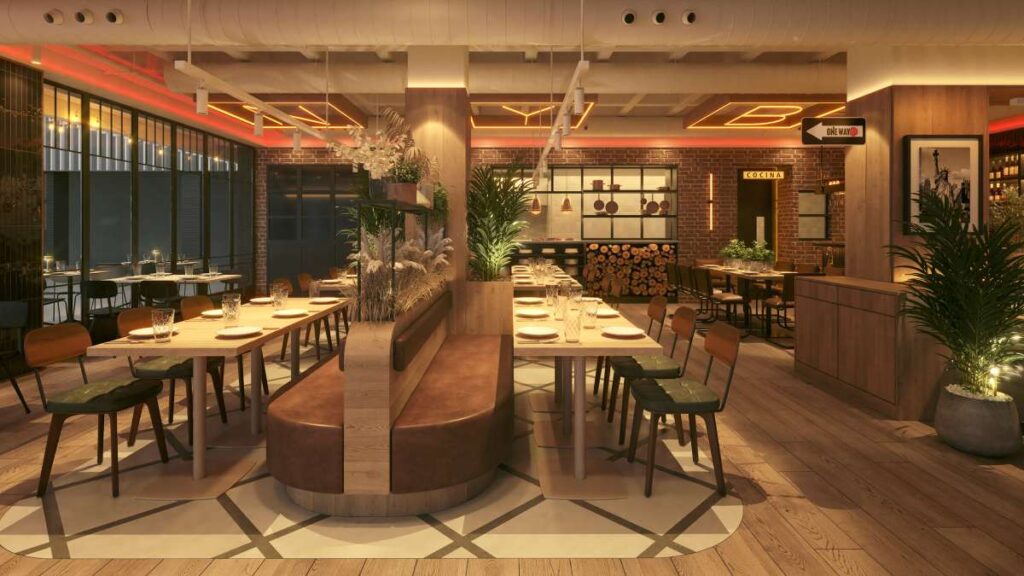 One of the most veteran and referential hamburger restaurants also arrives in Pozuelo de Alarcón, which in recent months is becoming a gastronomic hotspot. In this new and spacious place, you can try any of the 15 hamburgers offered on the menu, among which stands out its latest novelty, the Liberty, which has Havarti, bearnaise, smoked bacon shavings, mustard and spices. But you also have options such as their original gourmet hot dogs or a veggie section. Ideal if you are looking for a casual meal.
Where? At La Estación Shopping Center, 10 Antonio Díaz St., Pozuelo de Alarcón (Madrid).
Although it opened in July for a few days for filming, it was not until the end of August when it officially opened. This small place located in Paseo de Recoletos is owned by Hussi Istambuli and in the kitchen it has a menu designed by chef Patxi Zumárraga, who has just opened Haramboure. It is a 'retromodern' tapas bar where you can try different dishes, such as salad with quail eggs or Tonkatsu. All in its bar area and high tables. But it also has a music club section, called 'La Movida Madrileña'. Casa Canito is a tribute to this countercultural movement of the 80s. In fact, the name of the place is a tribute to José Enrique Cano Leal, who was known as 'Canito', who formed together with the Urquijo brothers the musical group Tos, precursor of Los Secretos.
Where? At Recoletos 11, 28001, Madrid.
Mantequería Doña Teresa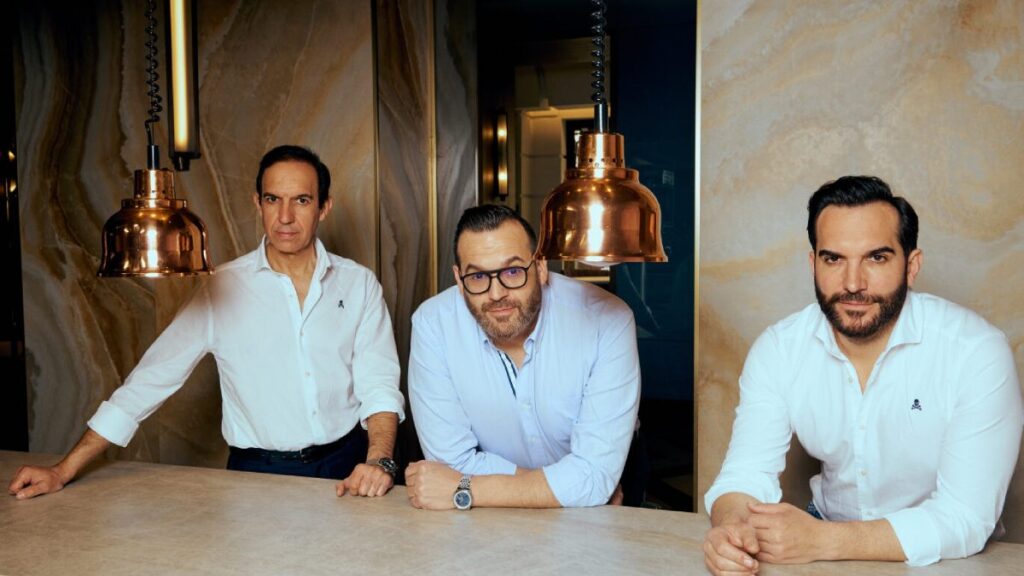 The Sandoval brothers will also take advantage of this fall to launch a new and different project. To their prestigious Coque and their Coquetto Bar, will join the Mantequería Doña Teresa to close the circle with this gastro triad in the heart of the Chamberí neighborhood. Although there is no opening date yet -it will be at the end of December-, it will be a gastronomic space that will pay homage to his mother and will be a kind of grocery store located in an old pharmacy next to the Coque restaurant. This year the Sandoval brothers also opened QÚ by Mario Sandoval, in the JW Marriott hotel in Plaza Canalejas, and they have the El Jaral de la Mira estate in Guadarrama.