Click here to read the Spanish version.
From spaces installed inside designer hotels to restaurants or bars surrounded by art, beauty and creativity. These cocktail bars have generated a cult following both for their liquid offerings and for the aesthetics that surround them. We present a selection of the trendiest cocktail bars in Madrid in 2023.
CHINCHÍN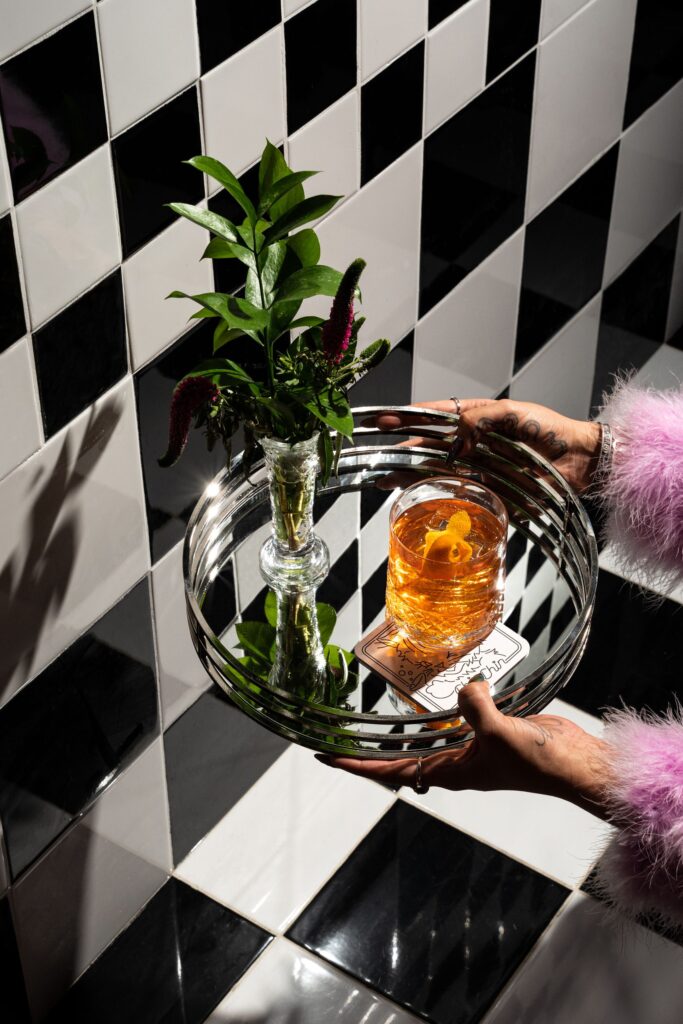 Laura Vandall and Edgar Kerri, the couple who own iconic Madrid clubs such as Lucky Dragon, Chachá and Club Malasaña, recently opened the doors of the Chinchin cocktail bar at Calle Andrés Borrego 8, between the legendary Pez and Luna streets in Malasaña.
Inspired by the Sunset Boulevard aesthetic of 1930s Hollywood, this cocktail bar, which represents a safe space for the creative and LGTBIQ communities, has already become the new hotspot for Wednesday-Sunday night previews.
Amidst interior design elements of classic luxury, such as red velvet lamps, sparkling glassware and a cat-like tapestry covering the ceilings, walls and furniture, Chinchín offers a varied menu of delicious cocktails and spirits ranging from the classic Margarita or the Moscow Mule, to the Pisco Shower or Negroni. A concept that has just been glorified through the projection of varied sounds that range from electrocumbia to boleros, and close the creative circle of this new design enclave located in the heart of Madrid.
MACERA
Tradition and innovation converge in this trendy venue located in the Barrio de las Letras, which combines discotheque and experimental cocktail bar in the same stimulating concept.
Both their workshop-bar at Calle San Mateo 21, and their club at Calle Ventura de la Vega 7, stand out for their craft distillates and their cocktails macerated in a laboratory where they experiment with an infinite number of flavours and aromas.
Beyond its liquid menu, Macera has captivated and transcended the intergenerational level with its industrial aesthetic and its musical eclecticism divided into two floors: hits or genres such as reggeaton are mixed by the resident DJS on the upper floor, while the basement mixes techno, EDM or electronic sounds.
PUNCH ROOM – THE MADRID EDITION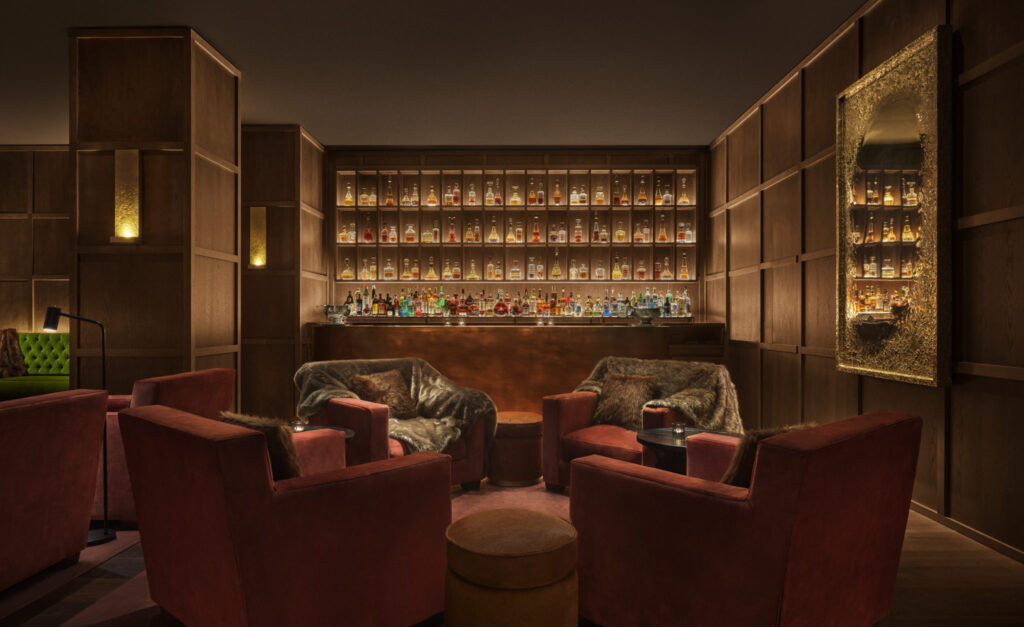 In one of the corners of The Madrid Edition design hotel is the "Punch Room" cocktail bar, a romantic space illuminated under a dim light, between dark oak panels and a basalt stone fireplace.
This space opens up a new dimension within the hotel, with its aesthetics diverging from the rest of the rooms. Even so, the design and architecture still prevail, by the design studio Garnier & Linker, and the furniture by Jean-Michel Frank.
Within its gastronomic proposal, among drinks and classic beverages such as liqueurs, whisky or sherry, punches remastered through contemporary notes take on special prominence. One of his Holy Grails is the "Corsair Punch", inspired by the famous corsair Jean François Roberval, made with ingredients such as Puro Italia pisco, Drambui or Maraschino liqueur. An experimental cocktail created by head bartender Simone Ruta from an extensive selection of natural extracts.
MOMUS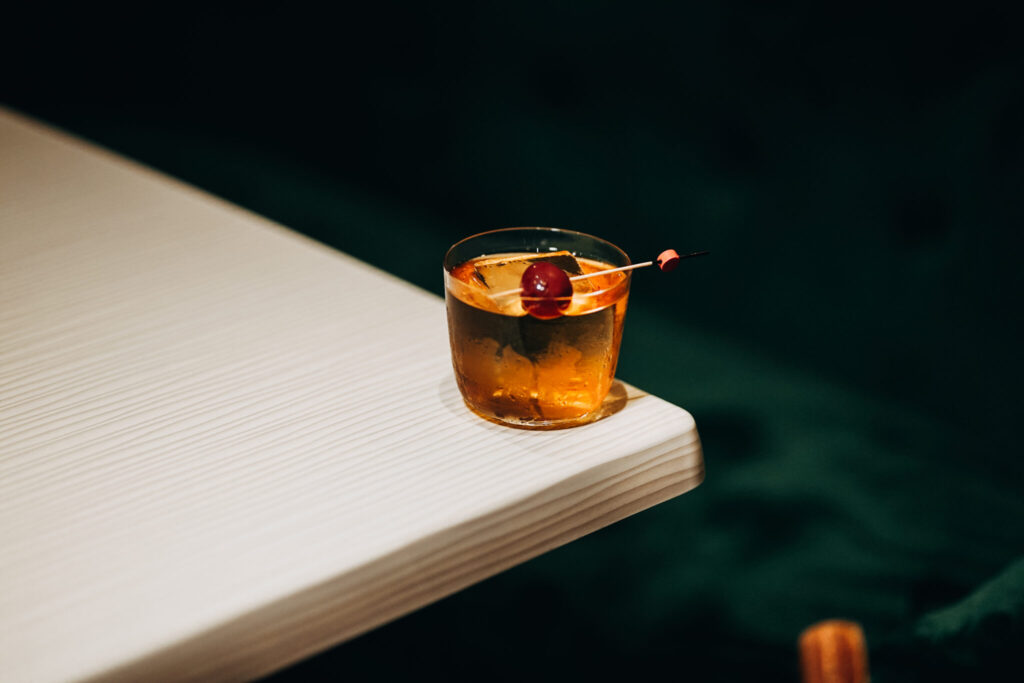 This temple of mixology already has countless followers or disciples thanks to its powerful concept of a speciality cocktail bar run by the iconic bartender Alberto Fernández.
Momus, located in the Chueca neighbourhood, stands out for its classic signature cocktails with elements such as flowers or avant-garde techniques, with which it has created a whole identity around art. A concept that also transfers its catalogue of drinks displayed as if they were works by Pollock, in which each cocktail is represented by an expression of colour and a different flavour. From orange in relation to woody, to yellow with citrus or purple with fruity.
Find this liquid oasis at Calle San Bartolomé, 11.
MALDITA GIOCONDA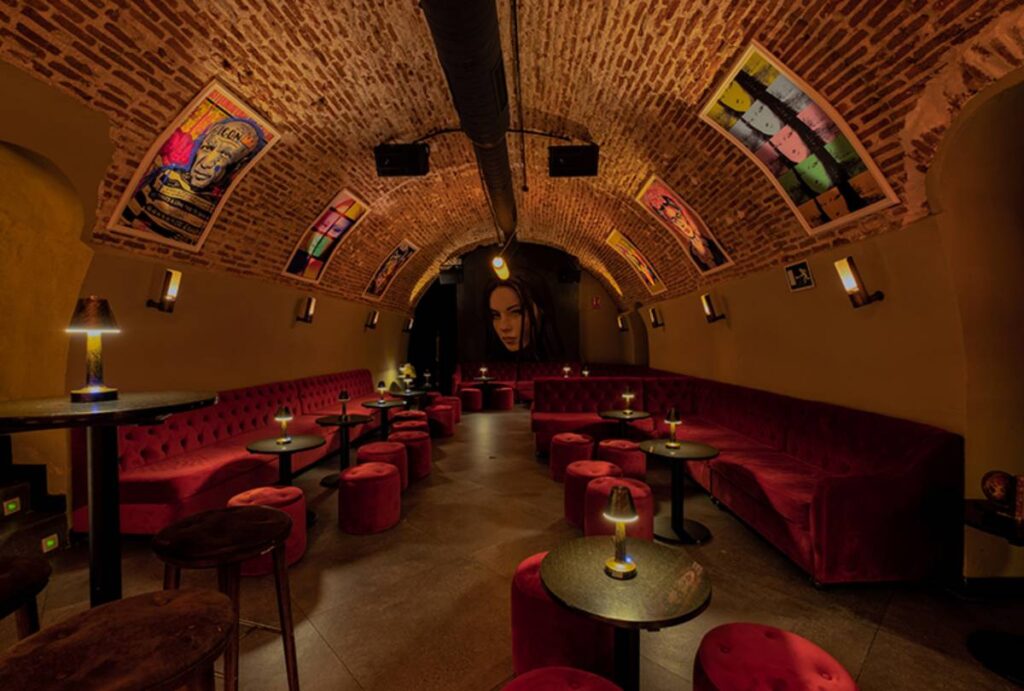 Maldita Gioconda is presented as a cocktail bar in an art gallery. An underground cave installed at number 12 Calle de la Bolsa, directed and curated by bartender Daniel Álvarez and his team.
Following this concept of exploring the world of spirits and their infinite possibilities inspired by Pop Art, great artistic and cultural icons symbolise a series of drinks, between walls with works by the muse that inspires this cocktail bar, the Gioconda.
On their menu, we find traditional creations such as the Cosmopolitan or the Caipirinha Colada, as well as some more eccentric ones such as the Old Fashion or the White Russian, with which they have just elevated this extrasensory experience.