Click here to read the Spanish version.
With this winter cold that goes deep down to the roots, we have sought refuge in one of the most succulent dishes of our gastronomy: cocido madrileño (Madrid stew). Humble but proud, it is written in three parts: noodle soup; chickpeas, potatoes and vegetables (especially cabbage); and meats (such as bacon, ham and chorizo). Although it lends itself to different variations, its essence always transports us to the realm of slow-cooked pleasures. As is the case in these eight restaurants, the best in Madrid for eating cocido:
La Bola
La Bola's historic stew seduced former kings and Ava Gardner herself, and that's why it tops our list of must-try dishes. For 150 years they have been preparing it over a slow fire, in individual pots over holm oak charcoal embers and with the same recipe of yesteryear (to which they have added the tasty touch of Asturian chorizo as a tribute to the owner, the fourth generation of the Verdasco family). Their secret? They tell us themselves: "To be faithful to history and tradition without forgetting the most important ingredient: affection when it comes to thinking about each and every one of the customers who fill our tables".
Casa Lhardy
C. Tangana chose this emblematic restaurant to present El Madrileño and to record the video clip for his Comerte Entera – in a provocative scene, Bárbara Lennie appears eating the mythical cocido Lhardy to the rhythm of bossa nova. And no wonder, of course. Casa Lhardy, which opened its doors in 1839 (it is said that Prosper Mérimée, author of Carmen, persuaded its founder to do so), is an edible ode to Madrid.
Historical and literary scene of countless anecdotes, it is a sort of doorway to another time. In fact, Azorín said that in its mirror "we vanish into eternity, we enter and leave the beyond". Queen Isabella II escaped from the Palace to dine with her ladies-in-waiting at Lhardy, and Alfonso XII also went several times incognito. But our favourite illustrious guest is Mata-Hari, who was arrested for espionage at the Palace Hotel shortly after lunching at Lhardy… Stew on a platter and a silver platter?
Casa Carola
"As a welcome, we serve diners a glass of cava and a croquetita de Cocido. Our cocido is served at the centre of the table, as an open bar so that diners can serve themselves as they wish". With this letter of introduction, Casa Carola has been winning over cocido lovers for 25 years -this season they are celebrating their anniversary-. And its recipe is incombustible: a pot of steaming, freshly made noodle soup, home-grown chickpeas from Cabañas de Polendos (Segovia), new potatoes and fresh vegetables. "All cooked al dente, with love. And then the food. Yearling and chicken meats, sarta chorizo sausage, homemade black pudding, Iberian bacon, ham knuckle and cane bones". Aren't your mouths watering with so much succulence?
Malacatín
In the centenary Malacatín they pose a challenge to everyone who crosses their doors: "Whoever finishes the stew doesn't pay". Almost impossible. Because to achieve this, you have to finish the three courses of a very unique stew: the tasty noodle soup; the chickpeas and cabbage; and the meats. And the last course comes with an additional surprise: a whole chicken and a tomato sauce with cumin. "Its recipe is the best kept secret, but a little hint can be given: nine pots make the broths that are mixed with the wisdom that only time and the patience of alchemists can give, for five long hours. This is how they achieve that particular flavour and aroma", explains the fourth generation of the Díaz family. Do you dare to play?
La Cocina de Frente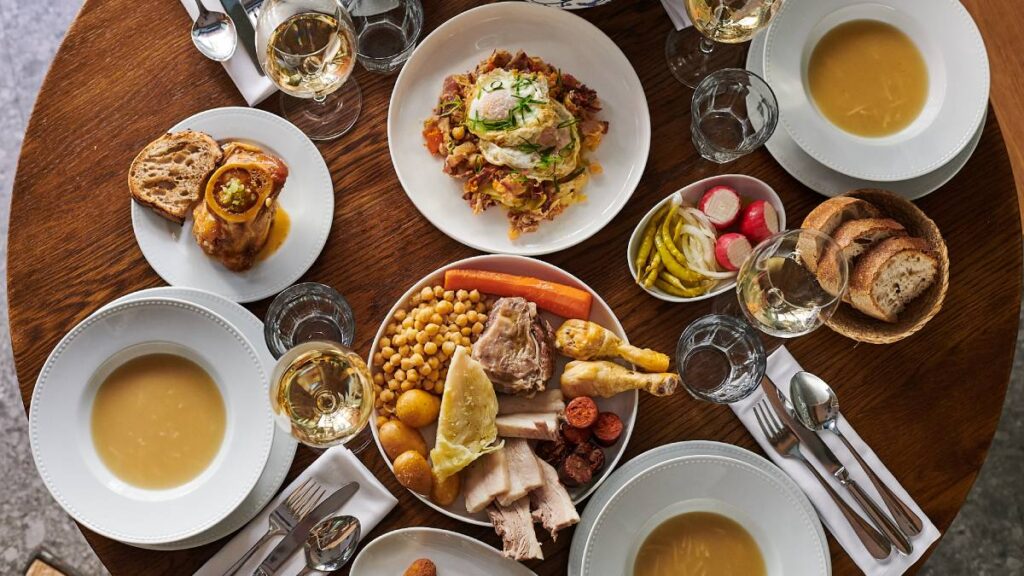 Juanjo López, owner and chef of La Tasquita de Enfrente and alma mater of La Cocina de Frente, and Carlos García, head chef of the restaurant, are the creators of the most daring cocido on the list. This year they start with their extraordinary croqueta de ropa vieja, with four turnovers and a hint of provocation: "In the cocido that you are going to enjoy, we have taken up the tradition and the cocido more as it is understood in Madrid, but with a wink and a little licence that we hope you will appreciate and enjoy. For us, the broth is always the common thread and the magic potion of our history", they explain.
In addition, through the fun initiative #elcocidodetodos, they invite other chefs to prepare their own versions to vindicate the cocido: Albert Adrià, Pepe Solla, Ramón Freixa and Joan Roca have already passed through their kitchens, and very soon Begoña Rodrigo and Ángel León will do the same.
Taberna Pedraza
Santiago Pedraza and Carmen Carro have travelled around Spain in search of the best ingredients to prepare a stew with its own name, Cocido de Carmen -one of the most elegant we have tasted: "It is an evocative dish that invites us to connect with those good times we have all enjoyed in the company of people we love. The stew is fine and sincere, the broth is degreased and has an intense flavour of bones. The soft chickpeas, selected one by one and stripped of their skins. The noble and Iberian meats", they say. And if that wasn't enough, at Taberna Pedraza you can enjoy a stratospheric stew croquette.
Treze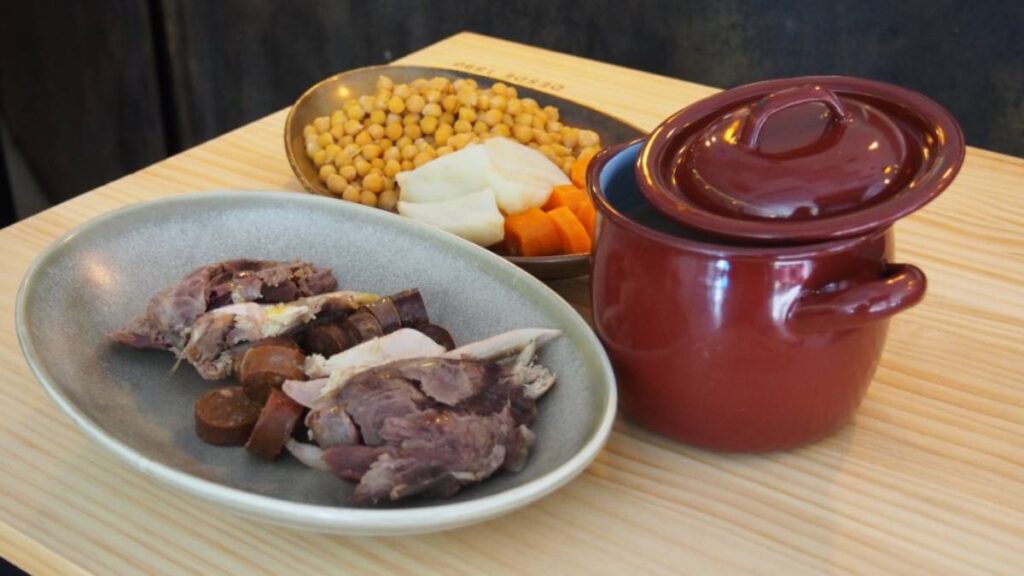 Saúl Sanz's cuisine looks to the wild and always succulent world of game, and his original seasonal stew has just returned to Treze, where it can be enjoyed on the last Friday of every month until March. He prepares it with wild boar, deer, partridge and pheasant shank, and his aim is "that innovation brings substance and that game stew becomes another of the most autumnal and modern aspects of Madrid's gastronomy". Not to be missed.
Cruz Blanca de Vallecas
Antonio Cosmen's bustling corner in the popular Madrid neighbourhood of Vallecas has been able to position itself as an absolute reference point for a speciality as hotly disputed in Madrid as cocido (stew). But be careful, because there are those who say -and we could be included in this group- that not even this famous dish is the best of its attractive menu. Thus, its fabada, its tripe or its verdinas also have true devotees and a multitude of awards behind them, although we admit that what really fascinates us is the rabbit with garlic and live lettuce, a demonstration that the popular can reach sublime heights.