Click here to read the Spanish version.
Paella (and rice in general) is one of the most typical dishes of our gastronomy, especially in the Valencian Community. The tradition of getting together on Sundays with family or friends around a delicious plate of rice is becoming more and more popular. If you need an excuse for a good 'paella Sunday', or just feel like doing a rice route through the capital as if you were in Valencia, here we have selected some restaurants that serve the best rice restaurants in Madrid. Our starting point is in the Plaza Mayor, specifically in the hotel Pestana Plaza Mayor. Are you in? Bon profit!
There is no better Sunday plan -and more traditional- than strolling through such a central area of Madrid as the Plaza Mayor. And, although having a typical calamari sandwich is tempting, what you can't miss here are the delicious rice dishes served at the Pestana Plaza Mayor hotel. Located in two historic buildings (the Casa de la Carnicería and a former fire station), they have the Café de la Plaza restaurant, in a beautiful and cozy inner courtyard, which offers authentic Spanish cuisine with Mediterranean influences. They have a varied menu, but with a clear protagonist: rice. On top you will find recipes for all tastes: from rice with free-range chicken, green beans and artichokes, to arroz a banda, black rice with baby squid, rice with duck, boletus and garlic or an exquisite lobster rice.
In addition, from March to May they have been offering special rice dishes off the menu, such as the veal mellow with boletus or rabbit confit in herbs with garfón. And let's hope that next season they will surprise us with new rice dishes.
How much? Between 19 and 30 €
Where? Calle Imperial 8, Madrid
**By the way, for those who still want a calamari sandwich, don't worry because at Pestana Plaza Mayor they have an original proposal in brioche bread with lemon mayonnaise, which is to die for.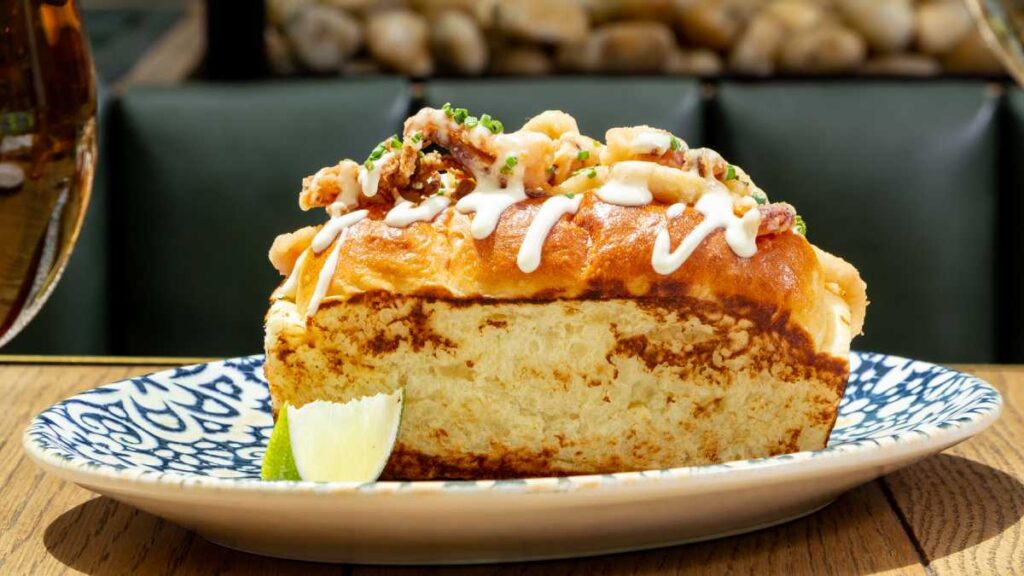 And from one emblematic spot we go to another historic one in the capital. On this occasion, we make a stop at the Ritz Garden to enjoy the spectacular rice dishes of Quique Dacosta. Here they have a menu called Paella Masterclass, with which you can discover all the secrets of this typical Valencian dish, in addition to tasting a full menu. The price is 145 € and is available on Saturday and Sunday mornings for groups of four to eight people.
But in its regular menu, you will also find the traditional Valencian paella or other striking proposals such as black rice paella with white shrimp, sea bass and squid.
How much? Between 62 and 66 € (for two people)
Where? Plaza de la Lealtad, 5, 28014 Madrid
The rice proposals of chef Carlos Griffo are being one of the revelations of the season. In fact, the chef of Calisto and also of Quinqué restaurant, recently became the first Madrilenian to win first prize in the 'Arrocero del futuro' contest, thanks to his recipe for pigeon rice with trumpet of the dead and mistela sauce with blood orange. Now he has just incorporated this rice, out of menu, for meals. So you can't miss it.
Where? P.º de Eduardo Dato, 8, 28010 Madrid
We move now to the north area, specifically in the Cuatro Torres, to enjoy the rice dishes of the restaurant Tria. With all the Mediterranean flavor (born in Valencia), but Asian soul Tria offers a unique experience full of nuances through its rice dishes. Whether it's Valencian paella, arroz a banda, rice with lobster or tender rice with galleys with ñora and garlic, to name just a few, here you will sit at the table to let yourself be carried away by its elaborations.
How much? Between 18,90 and 24,90 €.
Where? Paseo de la Castellana 259-B, Madrid
Berlanga
If what you are looking for is to eat a cinema rice, the Berlanga restaurant is your stop. And the name comes precisely from who you are thinking of. The creator of the restaurant is José Luís García Berlanga, son of the legendary filmmaker. Like his father, he also started in the audiovisual world, but ended up focusing on the gastronomic sector with this restaurant located near the Retiro and specializing in rice and Levantine Mediterranean cuisine, but with nods to the most traditional food in Madrid and tapas. You can opt for its arroz a Banda, made with its broth of morralla and galera, but also other options such as leek paella and monkfish Antonio and Ana Resines (yes, in honor of the actor).
How much? From 24,3 €.
Where? At Av. de Menéndez Pelayo, 41, 28009 Madrid
In this Dani Garcia's restaurant with all the essence of the sea and the most traditional roots, you can not miss an ingredient as essential as rice. Lobito de Mar's rice dishes are Andalusian, but with an Alicante soul. In its menu you will find dry rice with fish and seafood; dry rice with vine shoot Coquelet chicken, Iberian pork rib or smoked eel with lardo and nori seaweed; and also honeyed rice, such as red tuna rib from the Almadraba or lobster with 'trumpets of death'. We really don't know which one to choose.
How much? Starting at 24 €.
Where? Calle de Jorge Juan 10, 28001 Madrid
Mar Mía tastes like the Mediterranean, and one of the strong points of this gastronomy is rice. In addition, the concept of urban Chiringuito proposed by the restaurant is totally winning, thanks to its three edges. On the one hand, there are the Mediterranean Grills by chef Rafa Zafra. On the other hand, the Mediterranean concept designed by Carlos Bosch, who has achieved a luxury tapas. And, of course, the delicious rice dishes by Luis Rodriguez, from Casa Elias in Alicante. In the rice menu, we find three options: rice with rabbit and snails, rice with vegetables and mellow rice with red shrimp.
How much? 25
Where? Plaza de Isabel II, 7, 28013 Madrid
They have been open for more than 30 years. The architect of everything is Norberto, its founder who already had six restaurants behind him. Alicantino of birth that has always fought to rescue the traditional Levantine recipe book and, especially, the dry rice to the Valencian one. In this restaurant they do not serve rice in paella, but in patella, a container created and patented by Norberto himself, whose design allows a uniform cooking on its entire surface. In the menu you will find different options: from the classic arroz a banda to rice with rabbit and snails or with Iberian pork ribs.
How much? 28 €
Where? At Benigno Soto Street 9 (Madrid)
Another classic of rice dishes in the capital, with more than 25 years of experience. Specializing in seafood and rice, it went from being a classic seafood restaurant to completely renew its image. It belongs to the Oter group and in its menu there are plenty of rice options: clean seafood rice, not to get dirty; rice with baby squid and vegetables; rice with prawns from the South; or rice with lobster, among others.
How much? From 23 €
Where? Calle Alberto Alcocer 46 bis 28016 Madrid
Another ideal restaurant to enjoy an authentic paella in the heart of Madrid. They have several locations in the capital, but their latest opening has been in the Canalejas Gallery. With more than 30 varieties of rice, one of its features is its St. James fumet (which they also sell on their website). In the Canalejas menu, you have options such as seafood paella with cuttlefish, shrimp, prawns, crayfish, fine Galician clam and mussels, Alicante rice with chicken, cuttlefish, prawns, mussels, ribs, vegetables and chickpeas, paella with blue lobster, dry or broth or paella with lobster. Each one more delicious.
How much? From 24,50 €
Where? At 12 Alcalá Street, Canalejas Gallery (also at Juan Bravo 26 and Rosario Pino 14-16).