Click here to read the Spanish version.
For a Valentine's Day celebration to be perfect, the choice of restaurant is very important. There are many romantic places, but for an evening as special as this one, you have to go further and opt for a plan that will leave your partner open-mouthed. There is nothing more effective than falling in love through the palate and here we bring you proposals for all tastes. So, if you want to triumph this Valentine's Day, take note of these 8 restaurants, because in one of them you will find your perfect evening.
This exclusive venue proposes a perfect Valentine's Day for those who want to surprise their partner with a date full of flavour, love and, of course, fun. They have prepared a special Valentine's cocktail with a romantic live show and a menu of haute cuisine that promises to delight all diners who decide to celebrate love in this sophisticated space located in the central Paseo de la Castellana.
The more daring can try the 'Cupid's Guilt' cocktail, served in the elegant flute glass and made from vodka, mashed fruits of the forest combined with white chocolate liqueur, and finished with moscato. A sweet, fruity and absolutely seductive cocktail for a special evening in one of the ideal restaurants for this Valentine's Day.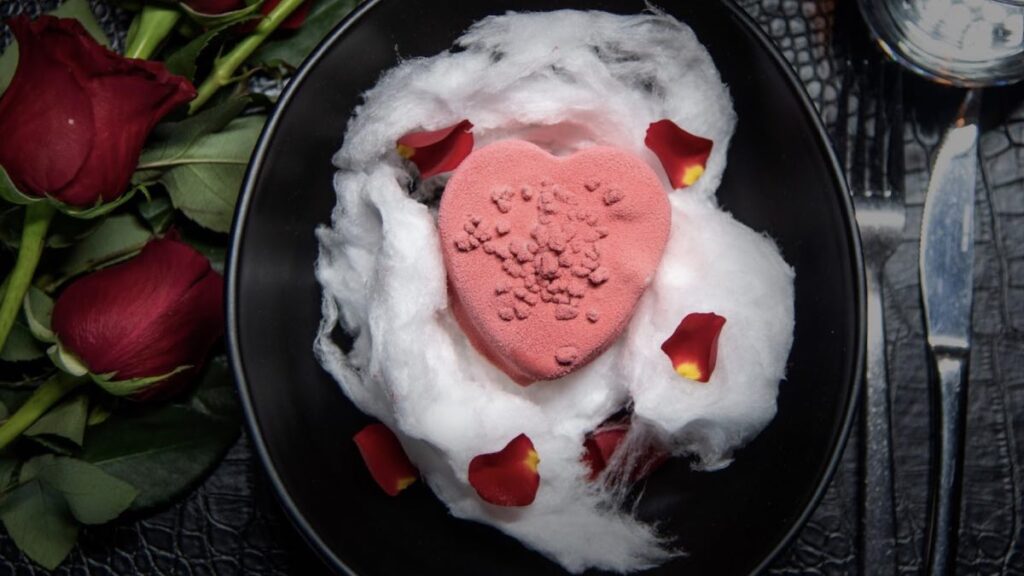 The Valentine's evening at Zielou will touch your heart. Executive chef Juan Sánchez has designed a special and romantic proposal to enjoy as a couple. Full of nuances and seasonal products, the menu is marked by the fusion of traditional ingredients with flavours from around the world. To start, three starters to share: aubergine ravioli, grana cheese with boletus sauce and fried kale; carabinero cream with citrus nuances from Italy and wok shrimp with traditional dressing and cherry mix with truffled stracciatella, basil pesto and Andean huatay.
For main courses, cod confit with herbs, spiced violet potato cream and Thai papaya salad; or for meat lovers, a delicious grilled duck breast with cherry and hibiscus reduction accompanied by glazed French onion. To finish with a sweet and loving touch, a heart-shaped dessert of strawberries with cream, candyfloss and rose essence. All paired with the designations of origin: Madrid (white), Ribera Sacra (red) and Penedés (cava). In addition, you can also try a new cocktail in a glass designed by the artist Samuel de Sagas. The menu costs 69 € per person. Of course, there will be live music to create a romantic and unforgettable atmosphere.
If you are looking for a totally different proposal, at SLVJ Bless (Bless Hotel), or any of the SLVJ establishments, you have a groundbreaking and original dinner. Beyond the romantic concept, here mystery and wildness will take centre stage in the figure of a secret admirer. The guest will have to discover the person who wants to declare their feelings. Undoubtedly, a surprising plan that will start with the gift of a cocktail specially designed for the occasion. It will be a totally unexpected Valentine's Day.
The most romantic diners will be able to go to the Ático restaurant at The Principal hotel, thanks to Ramón Freixa's proposal for Valentine's Day. The "Valentine's" menu by Ramón is designed to enjoy a special evening as a couple. In addition, the experience is accompanied by a massage. The special massage + dinner pack starts at €120 per person. The menu consists of 6 courses, 2 desserts and a welcome cocktail by the well-known bartender Daniel Cruz.
Another original proposal from this restaurant and catering company run by Juana Reinoso. For such a special occasion, they propose the 'Menu a dúo' (duo menu), made up of quality dishes and original names for the romantic evening. For 55 euros per couple, diners can enjoy burrata dressed with an 'I love you baby', my little scorpion fish pie or a beef hamburger heart, among other loving dishes. Experience it at the restaurant itself or you also have the opportunity to try it at home with their catering.
In the Jardín de Diana, the terrace of the Hyatt Centric Gran Vía hotel, you can also enjoy a surprising and different plan. They have developed the experience 'Five senses, one night', where diners can enjoy a menu designed to stimulate different senses through the play of flavours, colours and textures that make up this original symphony of dishes and cocktails designed for the occasion. Accompanied by an expert, the gastronomic proposal will be made up of a variety of dishes and cocktails designed to be enjoyed with one or more of the senses: from sea bass and prawn ceviche to Iberian pluma with roasted sweet potato and tartufo sauce.
And to round off such a special dinner, one of the couples attending will be able to enjoy a night at the hotel, so don't forget to be prepared!
At the Edition Hotel you will have two interesting proposals to celebrate Valentine's Day. You can opt for the special menu at its pisco bar & restaurant Oroya, run by Peruvian chef Diego Muñoz. A gastronomic experience full of flavour, where you can enjoy a Canarian passion cocktail, snacks such as Chifa razor clams with hoisin and pickled seaweed or the ceviche of love, among others. All this in a relaxed and lively atmosphere. If you fancy enjoying the breathtaking views of Madrid, its terrace with a fireplace and vine-covered pergola will create a romantic backdrop. The menu costs €150 for two people and includes a welcome drink and a glass of champagne.
On the other hand, you can also opt for the Jerónimo restaurant, by Mexican chef Enrique Olvera. Here you have at your disposal a special menu created to be enjoyed both at midday and at dinner time. From a snack of tender elotito, hollandaise, costeño and caviar, to a tiradito of red tuna, radishes, beetroot and corn crackling or a grilled red mullet with razor clams, among other specialities. A top proposal that rises to the occasion. The menu is also €150 per couple, with a glass of champagne and a margarita.
For this Valentine's Day, another restaurant you can visit is Papagena, located on the sixth floor of the Teatro Real, has designed a gastronomic proposal to enjoy the opera Arabella with all five senses, paying homage to Strauss' opera, being performed at the Teatro Real during this month. Once again, chef Ramón Freixa at the helm of the kitchen, on this occasion proposes an assortment of appetizers typical of Austrian cuisine to transport you to the place of origin of the protagonists: salmon laminate, sour cream and plums; half-baked artichoke with smoked butter and Iberian shoulder, all with the final touch of apple strudel as dessert. The best way to accompany this menu, a classic and elegant cocktail with a base of champagne, apple liqueur and sugar cube dipped in angostura bitters.
And if you are looking for other restaurants for this Valentine's Day, you might be interested in the new openings in Madrid during the last few weeks.