Click here to read the Spanish version.
Street food is more fashionable than ever. In the capital you can find an infinite number of casual proposals, to eat with your hands, with copious reasons and plenty of sauce. And not without renouncing high quality cuisine or having to pay a high price. The balance has reached many places and we have compiled some of the street food restaurants that you have to try in Madrid. From Asia to Latin America, get ready to explore the streets of the world through your palate.
A must for lovers of street food and Dabiz Muñoz's cuisine. It's only been two months since it reopened in its new location, on Calle Serrano 47, on the third floor of El Corte Inglés, and it's once again a reference point in the capital. With the same XO essence, here you can try up to 24 dishes – desserts included – in the purest street style: from the Club Sandwich to Pedroche's croquettes, Korean lasagna, lobster chilli or Pedroche's brioche. Of course, there is no shortage of spectacular cocktails. For a price starting at 60 €, you will enjoy a total street experience.
---
Halfway between slow food and street food, this gastronomic space that is only available for dinner is the alter ego of a legendary Galician restaurant in the capital: Terra Mundi. They are located in the same premises, but Bodente was born to change the nights and bring a youthful, casual and street touch with gastronomic proposals such as the chochiburger (Pulled suckling pig with coleslaw), the Fish & Chips, the lamb tacos or the salmon tartar brioche. They also have a selection of fun cocktails and desserts such as the Bodente torrija. For less than 25 € you can eat quality street food. They are at Lope de Vega, 32.
---
Located in the Barceló Market (Calle de Mejía Lequerica, 9), Mama Uma has become a fan of Korean street food. Its menu features just three typical Korean specialities: Bibimbap, fried chicken -one of its star dishes- and mandu dumplings. As well as their delicious dessert, Hodduk. For 15-20 € you can enjoy a different gastronomic experience. They also offer private introductory classes to learn some of the secrets of their menu.
---
They define themselves as a Latin cuisine project where they interpret and fuse different Latin American dishes, making a street tour through local and quality products. You can taste arepas, sanguche, tacos, chaupa, ceviche or cachapas among others, each one with more flavour. They also have specials off the menu, like the one in the photo: a tostón with tartar sauce, grilled sardines and ginger apple mojito. From €20 you can enjoy a foodie spectacle in their small restaurant in the Chueca neighbourhood, at Costanilla de Capuchinos, 3.
---
Chef Mario Céspedes -also of the Cilindro restaurant– is inspired by the authentic Peruvian sangucherías in the streets of Lima to bring to Madrid his sanguches (sandwiches) of pork chicharrón or entraña, Iberian pork cheek brioche or sautéed rice with chicken and vegetables in chaufa style. They are in C/ General Oraá 45.
It is a place that offers Lebanese street food in the heart of Madrid, specifically in the neighbourhood of La Latina (C. del Humilladero, 6). Rasif means 'pavement' in Arabic and that's what its Lebanese owners were looking for: authentic Lebanese street food. On the menu you can choose from salads, mezzes (appetizers) such as hummus, muhammara (cream of roasted peppers, walnuts and pomegranate molasses) or moussaka, among other options. There is also a wide variety of sandwiches such as Kebab, Makanek or Shish Taouk -also on a plate-. Of course, typical Lebanese desserts such as Sfouf. There is a set menu for 16 €.
---
Another way to explore the streets of Peru is through this place that offers Peruvian street food, with dishes such as ceviche, lomo saltado a lo pobre, the combo of rice with duck or the Peruvian picarones for those with a sweet tooth. Don't forget to try their iconic drink, pisco. They have two locations in Madrid: in the Barceló Market and in the Alcalá Norte Shopping Centre.
---
Chef Samy Alí decided to close a starred restaurant to open a small place in the Mercado de Antón Martín (C/ Santa Isabel, 5). That was more than two years ago and now it has become a benchmark in the fusion of haute cuisine and street food. Doppelgänger Bar serves a cuisine without labels and multicultural cuisine that ranges from naan brandade to broth-yaya, dragon egg or sequins. They also offer their own fermented drinks. An imaginative proposal full of flavours and textures. For around 25 € you can try several of their dishes.
---
To taste authentic Vietnamese street food you must visit this restaurant that has two locations in the capital (in Calle Delicias, 24 and Paseo San Millan de la Cogolla, 9). Its menu is full of fresh flavours that will make you travel to Vietnam with all your senses. You must try their Nem tasting (three types of fresh prawn, meat and seafood rolls), their Bao Bao with grilled Iberian pork and vegetables with chilli mayonnaise sauce or the Pho Xao noodles. Although the menu is quite extensive, there are also vegetarian options such as the Goi Cuon Chay, a fresh tofu roll.
---
Located in the Las Letras neighbourhood, on Calle Fúcar, 14, this small place offers Taiwanese street food. They were previously located in the Antón Martín market. As the name suggests, here you should order their Ramen or baos, accompanied by a wide variety of teas.
---
Located in Chueca (C/ Pelayo, 8), this is the first restaurant in Spain to specialise in biang biang (XXL) noodles, one of the most renowned dishes in Chinese cuisine. You can also try other traditional Chinese dishes inspired by Xi'an cuisine, with its characteristic spicy touch. You will live a gastronomic experience in the streets of Xi'an, but right in the centre of Madrid. The ticket costs around 20 € per person. You can read our particular review here.
---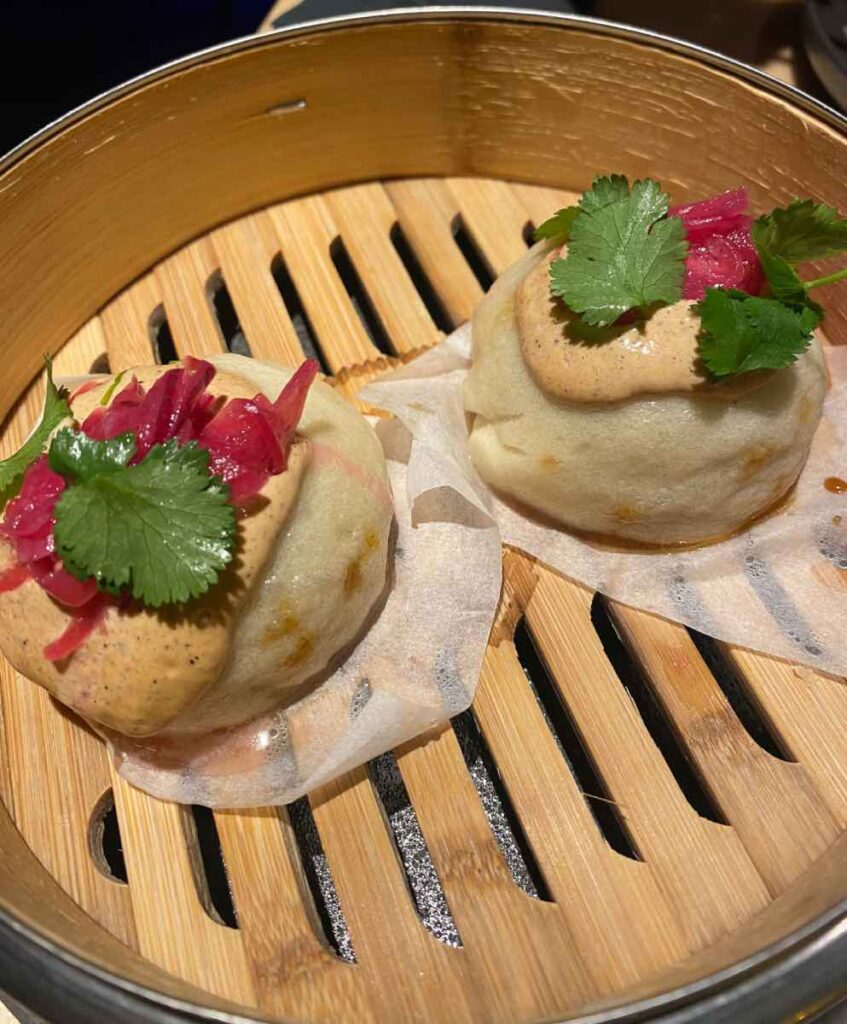 Another restaurant that fuses haute cuisine and street food. From the same owners as Nakeima, they opened just a few weeks ago very close to Gran Vía (in C/ de Víctor Hugo, 5). The menu consists of 12 dishes, including baos (such as chicken, lamb or cochinita pibil), Torrezno Pekín, tripe salad and Chop Suey. All of them are mainly designed to be eaten with your hands and can be paired with champagne. This place, like its 'big brother', does not accept reservations, but has an uninterrupted kitchen from 1pm to midnight.