Click here to read the Spanish version.
The lives of celebrities are always at the center of all magazines and television. They are figures to follow for many people who would like to have their physical form or look like them. For this reason, many of us are curious to know what is in the refrigerators of artists and celebrities who boast of taking such good care of themselves and looking spectacular.
Cameron Diaz
The American actress took time out of the media spotlight to focus on other projects and her private life. Among those projects is a wine brand, Avaline, and another food brand, Goop Kitchen, which he has launched with actress Gwyneth Paltrow. Cameron showed the inside of his fridge to advertise this brand, and while joking, there were only Goop Kitchen-branded wines and salads inside.
Gwyneth Paltrow
The actress and partner of Cameron Díaz in the Goop Kitchen project did not hesitate to do the same as Díaz to promote the brand's salads. Although she said that she had tidied up the fridge a bit before showing it off, Paltrow's fridge was a little more varied than her partner's. There were different drinks like San Pellegrino, Fever Tree, coconut water, sparkling water, and iced tea. There was also dairy such as coconut milk, cream or yogurt. On the other hand, he taught his condiments, among which he had mustard and a great variety of hot sauces. In addition, he showed how he had leftovers for another day, including butter chicken, zucchini fritters, veggie burger… and olives, jam, berries or eggs. Particularly surprising is the presence of skin care products on a door shelf.
George Clooney
The actor has always refused to have social networks and expose himself through the media. He is very reluctant to air his private life, but in an interview a few years ago he did not resist sharing what cannot be missing in his fridge. And it is nothing more than the ingredients to make burritos. Everything from the pancakes, meat, lettuce, tomato and cheese. And the ingredient that gives it the differentiating touch: guacamole.
Khloe Kardashian
Those who have no problem when it comes to showing their daily lives on the big screen are the Kardashians. The cameras have accompanied this family in recent years telling what their day to day is like, and among other things, also showing the inside of their fridge. In Khloé's fridge it has been possible to see a large number of drinks, from San Pellegrino, various types of Coca Cola, sparkling water, mineral water, juices of different flavors,… It also has the most varied condiments, such as pickles , tomato sauce and butter in large quantities. In addition, the fruit and vegetables are very well packed in insulated containers to keep them fresh.
Oprah Winfrey
The North American presenter has shown her fridge on some occasion in the past. The most surprising thing about this celebrity is her obsession with healthy food and the way she preserves everything… very well organized and everything already cut, ready to be used at the very moment she wants to cook something.
Carlos Sobera
In Spain there are also successful presenters who have no problem showing their refrigerators. This is the case of Carlos Sobera, who exposed his for El Español a few months ago. In it you can not miss the fish and meat, bought in local shops. It also has fruits such as apples and red fruits such as strawberries, raspberries, blackberries or cherries. Also many vegetables and legumes. And it also has Moët Chandon champagne and drinks like non-alcoholic beer, lactose-free milk. It also has hot sauces.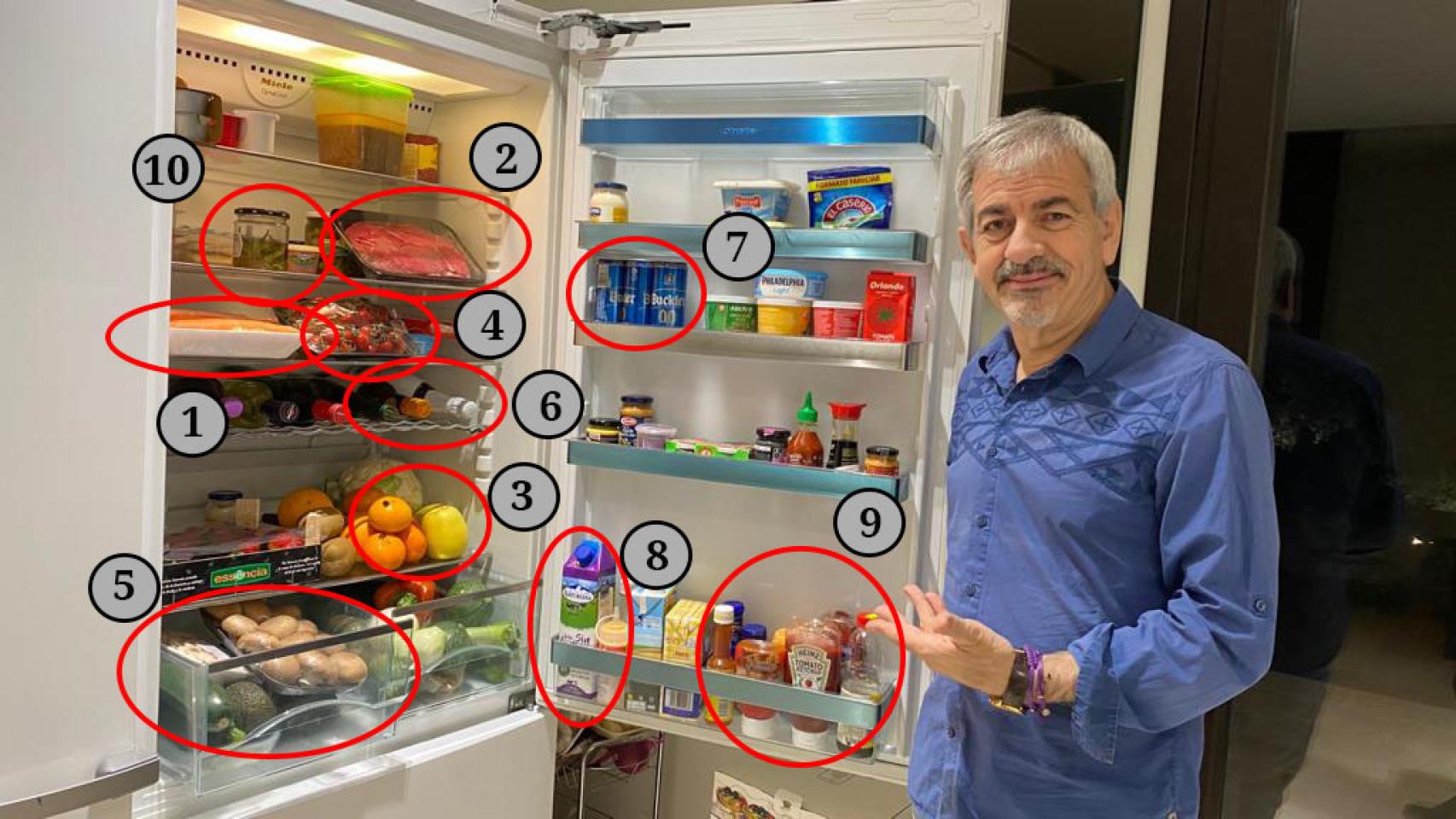 Jose Mota
In that same section of El Español, the Spanish comedian José Mota has had no qualms about showing his fridge. Mota also confesses to being a fan of small businesses and most of the items in his fridge come from local stores, such as minced meat and sausages. It has lactose-free milk yogurts, drinking chocolate, and condiments such as mayonnaise. It has a lot of vegetables, like broccoli and lettuce or cherry tomatoes… and soybeans. In addition, there is jelly, because the comedian is a declared fan.