Click here to read the Spanish version.
Best Japanese restaurant in Castellana', Zuma Madrid describes itself in a quick Google search. Black cod marinated in miso, spicy beef tenderloin with sesame or kinoko kamameshi (rice with mushrooms and truffle) are some of the signature dishes that, from December 2021, you can try in this bar-dining room, which replaced the legendary Hard Rock Cafe overlooking the Plaza de Colón.
When Zuma landed in Spain fifteen months ago, storm clouds were part of the Spanish economic 'geography'. After almost two years of pandemic, unequal restrictions depending on each autonomous community and a few restaurant closures, was it time to invest in such a context? There are many good reasons to choose Spain – and Madrid in particular – to open. It is a beautiful international city, a vibrant and multicultural capital. It is attracting the eyes of the world. And local customers are frequent visitors to restaurants here. So we asked ourselves 'why not Madrid', where it was clear to us that Zuma had to be," said Rainer Becker, who describes Zuma's expansion model: after founding the concept in London just over two decades ago, the brand began to explore the world, from Hong Kong to Istanbul, not forgetting Miami, until its owners realised that perhaps the juiciest morsel in the culinary industry was not so far away, but could be in Europe. And, in that reasoning, Madrid came into its own. For more reasons: "There weren't many international brands here yet; they are arriving little by little, just after Zuma landed; we were the first", he stresses.
In fact, he had been preceded by several foreign entrepreneurs, such as Big Mamma, which opened Bel Mondo in September 2020. Nine months later, it grew with Villa Capri, in Santa Barbara Square.
Reasons for the Madrid pull
Zuma and Big Mamma are among the first international brands to appear in Madrid, a city where there are restaurant openings almost every week, and among which, little by little, multinational brands are creeping in, which until not so long ago, did not include this market among their investment objectives. But everything seems to be changing.
Madrid is starting to resemble cities like Miami or London as a 'must be' market
Why is Spain – and specifically the capital – a target for investment by international hotel groups? A growing market in recent years, with many openings; an increasingly globalised clientele; the opportunity of available premises and more competitive labour and real estate costs compared to cities such as London. The backing of luxury hotel brands (Four Seasons, Mandarin Oriental, The Edition…) and even the tax incentives to attract foreign capital (a 20% deduction in personal income tax on the investment), launched by Isabel Díaz Ayuso, whose decision to keep Madrid's restaurants open during the pandemic was a unique case in the world, envied by many foreign hoteliers.
Madrid is beginning to resemble cities such as Miami or London as a gastronomic hot market, where you 'have to be'. "From the outside, we are perceiving it as the new London. Before, if a Latin American chef or group wanted to come to Europe, they would look to London; now, they don't even think about it: Madrid is the place where things are happening", says Virgilio Martínez, chef and owner of Central, a haute cuisine restaurant in Lima, ranked as the second best restaurant in the world according to The World's 50 Best Restaurants. Are you considering opening in Madrid? "We have had some proposals, but we are not considering it; at least, not for now. You know what? It would be more important for me to open here, where I would be in the spotlight and everyone would be watching me, than to have opened in Tokyo [where MAZ opened a few months ago]", reflects a chef who worked in the Spanish capital before starting his business in Lima, when he was the first head chef at Astrid y Gastón Madrid – with which, in 2007, Gastón Acurio made his debut in Europe.
From Llama Inn to Robuchon
Also of Peruvian origin are Juan Correa and Erik Ramírez, who last autumn set foot in the European market through the vibrant Salesas neighbourhood. Former investment banker and chef, respectively, they first started together at the end of 2015, with Llama Inn in Williamsburg, Brooklyn; they returned to New York in 2019, with Llama San in the West Village. When they considered leaving the New York market, they didn't hesitate. "Madrid is a number one city, which is becoming the second Miami of the world", they argue. They see the capital "as an important cultural nexus, with many Latinos coming here who could be our clients".
The district chosen by Correa and Ramírez, Salesas, is a hotbed of openings, partly because some foreign entrepreneurs opted for this area a few years ago. This is the case of the Uruguayan Ignacio Juanvelz, who has added -to Cannibal Raw Bar and Charrúa- Los 33, in alliance with the owners of El Viajero -a famous restaurant in La Latina-; or César Figari and Constanza Rey, owners of Grupo Quispe, which includes several Peruvian cuisine restaurants, such as the one that gives its name to the group, Ponja Nikkei or Sillao.
Almost at the same time as Llama Inn, Robuchon Madrid opened last October, the first business in Spain of the group founded by Joël Robuchon. Opening in the Spanish market was a dream of the French chef, who died in August 2018, after spending many summers at his home in Calpe. It occupies the premises that was Embassy from 1931 to 2017. As Frenchified as the venture may be, its ground-floor bistro-tea room, christened L'Ambassade, seems to evoke the past of the iconic Madrid concept to, if possible, attract its old clientele. Behind the French-born conglomerate is an investment structure: Robuchon España is a subsidiary of JR Group, which owns most of the restaurants of Joël Robuchon International, owned by the Luxembourg fund Aerium, in charge of managing the licences of 24 restaurants on three continents.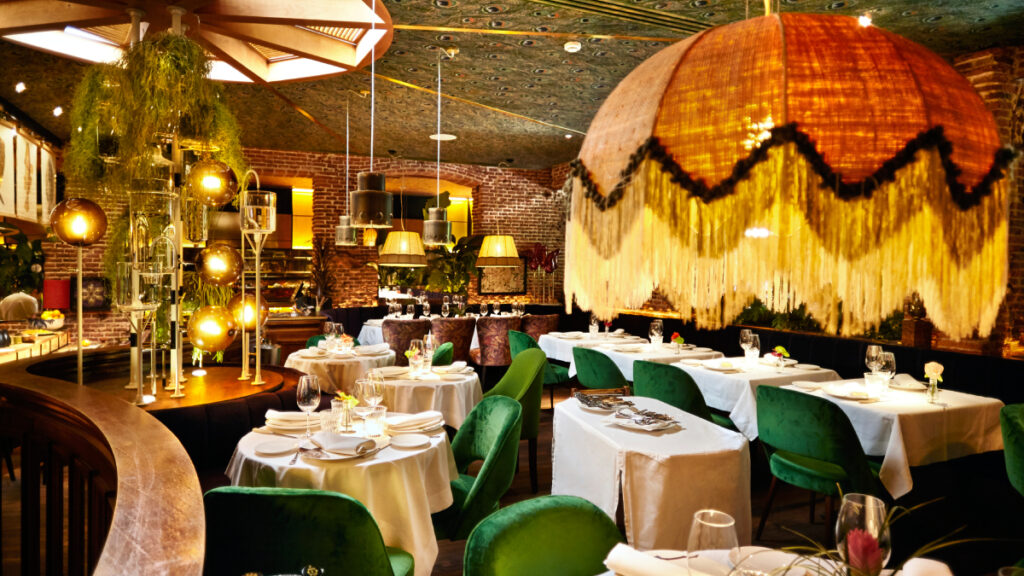 Funds in search of premises
Right there, an investor profile that is attracting the city appears: funds in search of good premises in the most commercial and/or gastronomic streets of Madrid, without forgetting that some multinational brands that have already opened have venture capital within their shareholding. This is not only the case of Robuchon. Zuma is part of Azumi Limited -a firm with other brands such as Roka-; half of its capital is still in the hands of its founders, but the other 50% was sold almost nine years ago to Dogus Group, a Turkish consortium with a diversified business portfolio.
Does eating matter or are party, decoration and 'see and be seen' more important when it comes to booking a table?
In turn, Dogus is, since the end of 2016, a partner of Grupo Paraguas, a company founded by Sandro Silva and Marta Seco, with restaurants such as El Paraguas, Tenconten, Quintín, Amazónico, Numa Pompilio, Aarde and Origen, subsidiaries of Amazónico in London and Dubai and a powerful project for 2023: a hotel with several gastronomic spaces in the Metrópolis Building, in Alcalá, 39, on the corner of Gran Vía.
Adiscotected restaurants
The 'Silva-Seco model' opened a path that was later followed by groups such as Larrumba, but, above all, by formats launched by foreign groups that took it one step further, when they realised that Grupo Paraguas was attracting a very juicy 'slice' of Madrid's clientele: Latin Americans living in the city, where they even have a second – or first – residence. Mexicans, Colombians, Venezuelans, Peruvians… went from filling Amazónico to generating a demand for 'adiscotecados restaurants', almost always with a menu of exotic cuisine, cocktails, music played by DJs or live music and, even more, performance in the dining room. This is where brands like Salvaje come in, which opened one place shortly before the pandemic in Madrid, and has now opened several.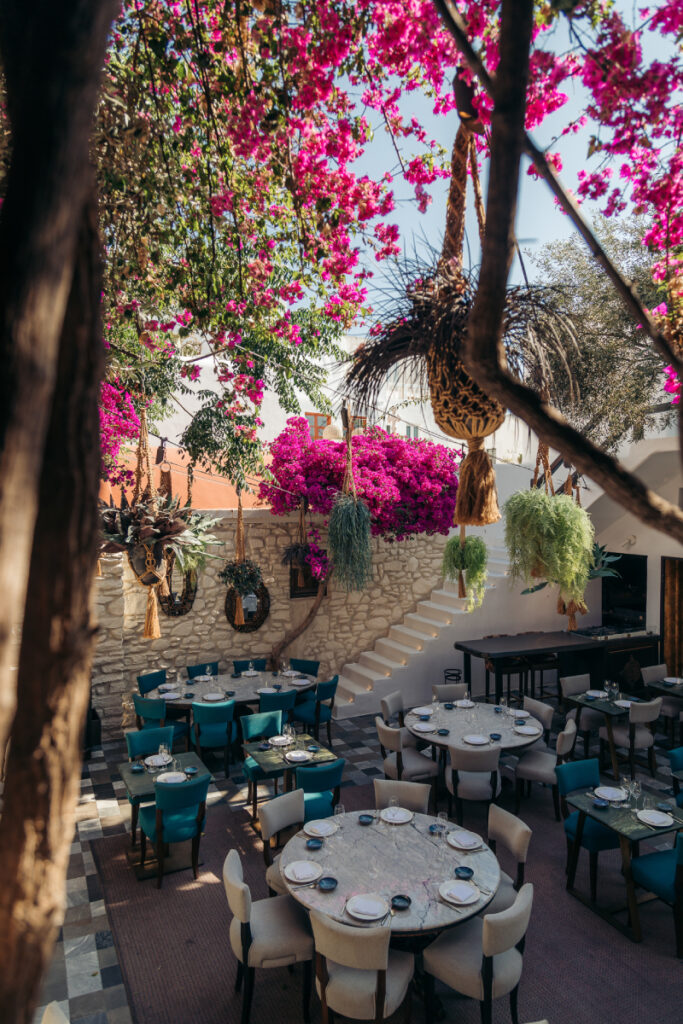 In this model – in which nightlife in nightclubs or cocktail bars is replaced by 'partying' after-dinner meals in restaurants of this profile – fit from Fanático or La Fonda Lironda, of Grupo Carbón (with shared partners such as La- rrumba and with the participation of Aurica, a Sabadell fund, in its capital, to Papúa, Panthera or Chambao, a project with which the Mexican group RosaNegra arrived in Spain at the end of 2022, almost coinciding with its compatriot, RosaNegra, Sabadell fund, in its capital), to Papúa, Panthera or Chambao, a project with which the Mexican group RosaNegra arrived in Spain at the end of 2022, almost coinciding with its compatriot Costeño, which opened the Japanese Hotaru.
Does eating matter or is it more about the party associated with the excuse of booking a table, the decoration and the 'see and be seen'? Maybe, with two somewhat worrying risks. One, they can become almost 'throwaway' establishments: the customer profile that is attracted by this model of 'adiscotecado restaurant' tends to be a slave to fashions, so the opening that comes up, the immediate booking that is aspired to, with the doubt as to whether they will repeat the visit or, rather, they will be waiting to 'eat' the next novelty. And, two, the homogenisation of the offer is a real danger: premises with identical interior design and almost identical menus with little personality.
"Perhaps these arguments are the least important for a fund that is looking for opportunities to buy brands and that, just as it proposes expansion plans for hamburger or tapas bars, it applies the formula for 'trendy places' that, if they don't work, will be great locations for any restaurant chain".
Adaptation to the local market
On the other hand, the arrival of Robuchon or Zuma does not necessarily mean certain success. "They may arrive a little late in a city like Madrid, which has dozens of restaurants that are even more original. Here they have to adapt their offer, opening hours and prices to the local clientele. Even discounting wealthy foreigners living in the city, the Madrilenian who is used to visiting restaurants several times a week does not have the purchasing power of a Londoner or a Parisian," reasons a gastronomic observer.
The gastronomic market in Madrid and the rest of Spain is set to undergo changes, with the next globalised openings in sight? If La Cabrera, the steakhouse of the Argentinian Gastón Riveira, has just opened its doors on Calle Velázquez – previously, it had already opted for Málaga and Barcelona – several foreign brands are planning to disembark or grow. Nobu – with hotels and restaurants in Marbella, Ibiza, Barcelona and San Sebastián – will arrive in Madrid this year, as will Hakassan, a fine dining Chinese restaurant created in London. Carne, Mauro Colagreco's hamburger chain, is preparing to open in Madrid, with local partners such as Nino Redruello (from the La Ancha Group). In Marbella, Puente Romano will welcome the Peruvian Coya and the iconic Cipriani from spring. Roka, from Azumi Limited, tested pop-up last summer in Mallorca, where it aims to have a permanent location by 2024. And among the Dani García Group's plans to create a large food & beverage company, a new line of growth is being contemplated: bringing international brands to Spain under licence.