Click here to read the Spanish version.
Forbes magazine is touring ten Spanish cities to celebrate its 10th anniversary and today, 30 March, its stop is in Badajoz. The Forbes Master Class in Badajoz, which is being held at the Centro Vivo Hospital, brings together an outstanding group of speakers, including Daniel Hulme, an expert in artificial intelligence (AI). Don't miss this unique event and follow it on Forbes.
Taking advantage of the fact that Forbes is in Badajoz today, we have selected some of the best restaurants in the city of Badajoz (and the surrounding area) so that you can take advantage of this interesting event and treat yourself to a good meal. Take note!
This restaurant is the Golden T of Tapas Magazine of Extremadura. Juan Manuel Salgado is one of the most promising chefs in Extremadura. He has been a finalist several times in the Best Chef of the Year competition and even won the Bocuse d'Or in 2017. Obviously, all this excellence is reflected on the tablecloth. With Dromo, his first personal project, he aims to put Badajoz on the gastronomic map, which is why he offers a cuisine of textures and powerful flavours, but with such sublime morsels as his yolk confit.
con castañuelas ibéricas regadas con salsa de jamón.
By: Alba Baranda Mesa
Badajoz. Plaza de la Molineta, 8
924 04 14 50
Menú degustación: 70-90 €. Carta: 30-50 €
Alta cocina/Informal
It opened at the end of 2020 and arrived in the city of Badajoz to 'blow people's minds'. There is a reason why the cuisine at La Bistrológica is "brainy", in the words of its chef and owner, Antonio Caro. It offers modern dishes, but with a flavour deeply rooted in the land, especially in Extremadura and Andalusia, where Antonio is from. Its menu is small but fun, with one of its star dishes being the low-temperature boneless Iberian suckling pig ribs with green apple ravioli. Its liquid menu includes wines from various designations of origin and even a vermouth from Extremadura.
By: Alba Baranda Mesa
Badajoz. Calle Jacinta García Hernández, 4
600 05 61 75
Carta: 15-30 €
Creativa
It is located on the third floor of the Hotel Nh Gran Casino Extremadura. It is a unique space in Badajoz and offers one of the best views of the new river area and the historic centre of Badajoz. It has a menu with a wide variety of seasonal local products and a wine cellar with excellent quality wines. They also serve Nikkei cuisine at dinner (a Peruvian-Japanese fusion).
Badajoz. Avda. Adolfo Diaz Ambrona, 11 (Gran Hotel Casino Extremadura)
680 96 71 57
Menú degustación: 60 €. Menú Ejecutivo (de lunes a viernes): 25 €. Carta: 40-60 €
Mediterránea / Española / Fusión japonesa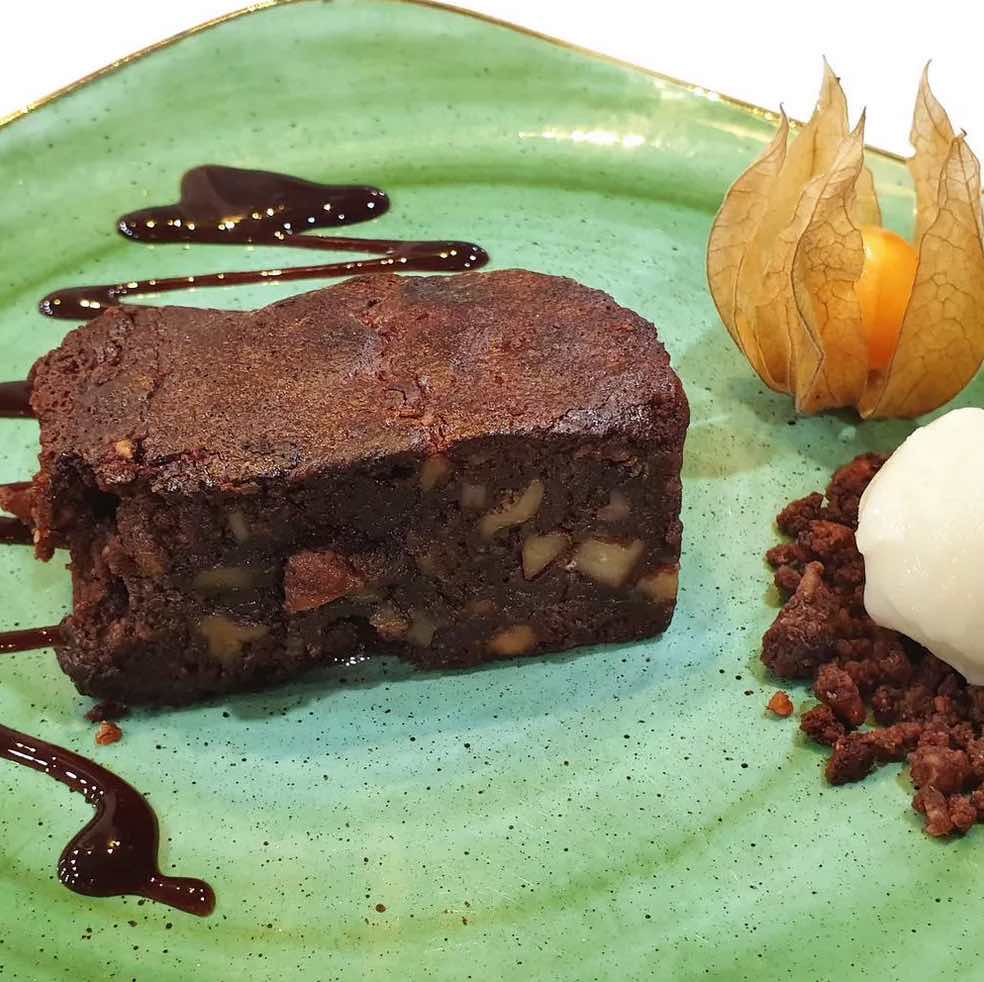 It is one of the beacons that illuminate the gastronomy of Badajoz and the region. It has a long and famous history -since 1982- which can be seen in its busy dining room and bar, always full of avid tasters. It brings out an exceptional raw material carefully treated: meats, fish and seafood, excellent Iberian ham, folded loin, goose barnacles, anchovies, white prawns? Although they excel in the scrambled eggs and monkfish with onions, in general, all their dishes are well prepared. They have a wine list with several denominations of origin.
By: Alba Baranda Mesa
Badajoz. Avenida Miguel Celdrán Matute, 6
924 25 82 11
Carta: 40-60 €
Mediterránea / Actual
Here, rather than looking for a nice place to posture on social media, you come here to eat -and very well. Its cuisine is a succulent representation of Extremadura, with a high level of quality in the raw ingredients, which converge in dishes with more up-to-date elaborations. Whether the menu is designed by the head waiter, José Domínguez, or you decide to improvise, enjoyment is more than assured.
By: Alba Baranda Mesa
Badajoz. Carretera de Cáceres, 37
924 27 42 15
Carta: 30-50 €
Mediterránea
The Martínez Paiva winery is one of the most emblematic in the region, but it also has a restaurant of the same name. The setting, full of vineyards, is a breath of fresh air in the middle of a national road, and the building where it is located is breathtaking. The same is true of the dishes, which combine local produce, always in season, with ingredients from around the world (gyozas, Peking duck or salmon poke). Exquisite service and carefully prepared desserts.
By: Alba Baranda Mesa
Almendralejo. Ctra. N-630, Km 646
924 03 01 29
Menú degustación: 48-57 €. Carta: 20-40 €
De mercado
It is the only 100% vegetarian restaurant in Extremadura. But, be careful, don't run away just yet, lovers of succulent food. Despite the fact that no animal products are used in its cuisine, its dishes are surprising to the eye and to the taste. It is a sin not to order their moussaka and a crime not to leave room for their desserts, as all their pastries are homemade. They also have craft beers and special cocktails.
By: Alba Baranda Mesa
Mérida. Calle Sagasta, 21
636 75 28 37
Carta: 15-30 €
Vegetarian