Click here to read the Spanish version.
A few days ago we announced that José Andrés launched the publication of a new cookbook, this time together with his NGO World Central Kitchen. In this work, the Asturian chef has included recipes from prestigious chefs, as well as local cooks and personalities and celebrities who support the NGO. One of World Central Kitchen's most popular recipes is chicken with green chili. It is one of the dishes that has been served the most in the places where the organization has moved to help in various catastrophes and conflicts. In the book The World Kitchen Cookbook, Feeding humanity, Feeding Hope you can prepare this and many more dishes.
To whet your appetite, here is a step-by-step guide to José Andrés' chicken with green chili recipe.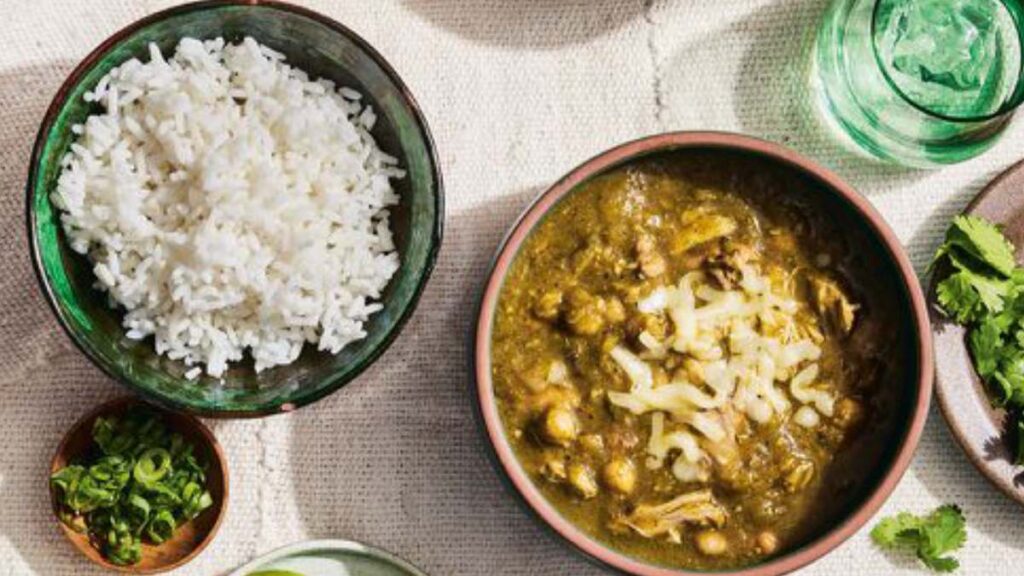 Chicken Chili verde Recipe
Ingredients:
5 chopped spring onions
1 can of whole peeled or crushed tomatoes
1 can roasted green chiles
1 jalapeño (optional, if you want it spicier)
4 cloves garlic
Some chopped fresh cilantro
1 tablespoon of olive oil
1 kg of boneless chicken breast
1 onion, diced
Pinch of salt
Freshly ground black pepper (to taste)
400 ml chicken stock
1 can of chickpeas
Ground cumin
Dried oregano
Ground coriander
Lime juice
Grated cheese
White rice or tortillas
Preparation:
Place most of the scallions in a blender (reserve some for garnish at the end) along with the tomatoes, roasted chiles, jalapeño, garlic and cilantro and blend well.
In a medium saucepan over medium heat, put oil and add the chicken and onion; season with salt and pepper and stir occasionally, until the onion is transparent and the chicken is lightly browned (about 10 minutes).
Add the chicken broth and then the puree plus the chickpeas, cumin, oregano and coriander and stir again. Bring to a boil and then reduce to a simmer, cover and cook until the chili is flavorful and thick, approx. 2 hours.
Finally, add the lime juice and garnish with the reserved chives, cilantro and cheese.
Serve with rice or tortillas.