Click here to read the Spanish version.
The female collective formed by Nora Silva, the project director, Marta Moya, the chef, Belén Cabello, the designer, and Sara Oldenburg, the sommelier, opens the doors to different avant-garde universes installed in unconventional scenarios in which they generate food circumstances around a conceptual performance.
Fondo Supper Club became an extension of The Gramounce, a project that investigates contemporary politics by focusing on food and art. It is an eco-futuristic club that values the role of women in gastronomy, small wine producers, and vegetarian-based dinners as a way of assuming a share of climate responsibility.
"We investigate artistic practices and develop our research through gastronomy. Our goal is to communicate information through food, generating food circumstances as a legitimate format of exposure. We consider cooking as a valid creative discipline in the elaboration of meanings", reads Supper Club.
Through their experimental projects that revolve around gastronomy, they generate edible situations in various galleries or events, simultaneously collaborating with brands that have fallen under the spell of their creative synergy, and have wanted to join their club. In this sense, each of the FONDO dinners is structured around a concept, an idea or an artist, transferring their work, identity or creative expression to a space transformed for the occasion.
Their restaurants thus become ephemeral installations with which they alter and distort different scenarios: from "Synergit Banquet" presented at El Matadero, conceived as a journey through the practices outlined by Black Almanac in his essay "Cooking the Earth" in the middle of a scaffolding system, to their latest edition "Processing the past & digesting the future": a gastro-emotional experience structured from the group exhibition at the BADR El Jundi gallery.
FONDO X BADR EL JUNDI
The last intervention of FONDO, which we had the opportunity to attend, took place in the gallery BADR El Jundi. A space that they fleetingly transformed to exhibit their proposal and reinterpretation of the work "Processing the past, digesting the future" in a gastronomic format.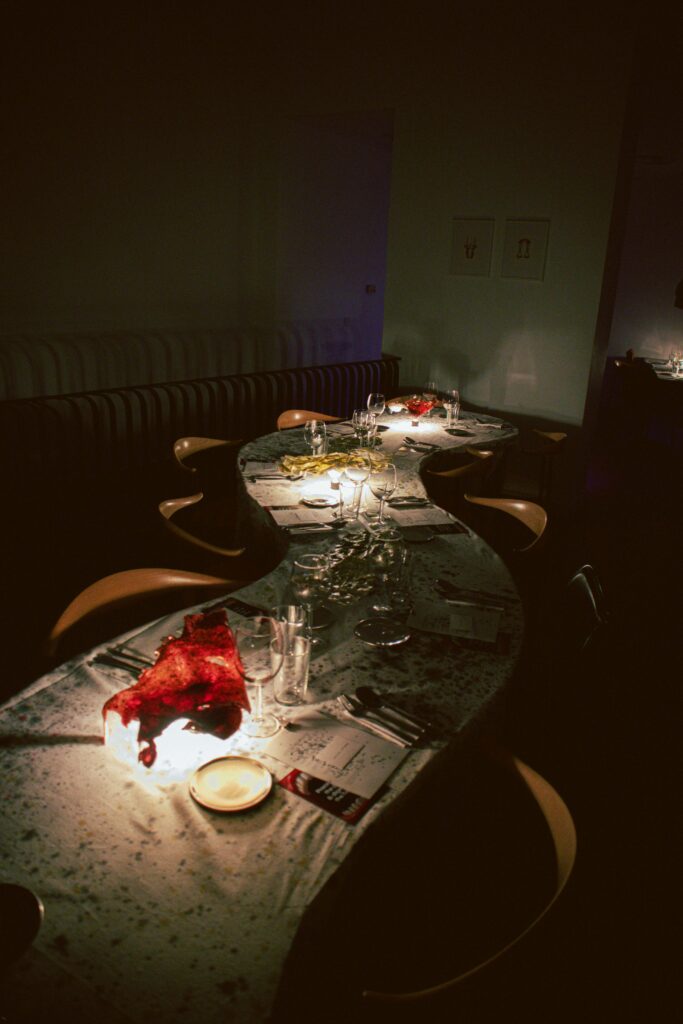 The collective presented a dinner articulated around the digestive organ as a metaphor for the exhibition space, on a serpentine table illuminated by a series of candles in the form of sculptural pieces.
Among this composition of elements, the FONDO girls, dressed in a synchronized way, served a tasting menu based on "emotional eating", as well as on the eternal connection between the mind and the digestive system. A proposal of stimulating dishes such as white asparagus with zabaione, pickled apple and buckwheat, a panacotta of herbs with tomato granita and crispy garlic or a glazed eggplant with oatmeal. A whole constellation of sensory gastronomic creations paired with a selection of natural wines in a festive environment inhabited by different creative communities and generations.